2009 Modern Canada Silver Kilo Coin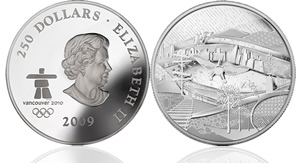 The Royal Canadian Mint has released the 2009 Modern Canada Fine Silver Kilo Coin as the third offering in a series that began in 2007 with the "Early Canada" design, and was followed in 2008 with the "Towards Confederation" coin. These coins have an extremely low worldwide mintage of just 2500, with each priced at $1,599.95 CAD.
The "Modern Canada" image was created by the Vancouver Organizing Committee design team as a tribute to the contemporary Canada that will play host to the Vancouver 2010 Olympic and Paralympic Winter Games. The ultra-high relief process normally reserved for medals was used to create the extremely detailed images.
The reverse of this coin attempts to illustrate the diverse attributes of the area that will play host to the Olympics. It features both nature and technology, with nature being represented with aspects of water like rain. Nature is also portrayed with trees and the landscape of the country. Technology is portrayed with images of train tracks, a bridge, a cityscape and power lines.
The obverse designed by Susanna Blunt contains a portrait of Queen Elizabeth II, the denomination of $250 Dollars, the year 2009, and the Vancouver 2010 Olympic symbol. This massive coin is a whopping 101.6 mm (4 in) in diameter, and contains one kilogram of 99.99% pure silver.
The coin may be purchased on the Royal Canadian Mint website at:
Fine Silver Kilo Coin – Modern Canada
The Mint also has a gold version of the coin with the same design and one kilo fine weight. Only 50 of these coins are available with each priced at $54,000.
have sister coins available with the same design in gold that have an even more limited availability of only 50 units.
2009 Modern Canada Silver Kilo Coin Coin Image