2010 Australian Centenary of Flight Silver Proof Coin Debuts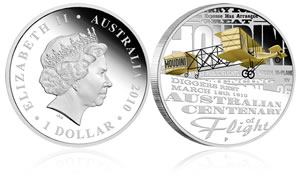 Harry Houdini is a name almost synonymous with magic and stunt acts, but few are aware that he was also a pilot in the early days of aviation. In fact, he is attributed with being the first individual to obtain sustained flight in the country of Australia. That is why the Perth Mint has released the 2010 Australian Centenary of Flight Silver Proof Coin.
Houdini bought a French Voisin biplane in 1909 and quickly learned the intricate art of aviation. Then in 1910, he went on tour in Australia with his traveling show filled with magic and stunt acts. Upon hearing of his interest in flying, the Australian Aerial League invited him to demonstrate his skills in order to promote the idea of aviation.
On March 18th of that year, at Diggers Rest near Melbourne, Houdini took off but was airborne for less than a minute. Not to be dissuaded, Houdini took off again achieving flight for almost five minutes with an elevation of 100 feet. Then, on his last attempt, the famous magician achieved the feat of being the first man to obtain sustained flight in Australia. It is said that Houdini commented afterwards that the world may forget him as a magician, but it would never forget him as a pioneer aviator.
2010 Centenary of Flight Silver Coin Specifications
The coin celebrating the centenary (centennial) of Harry Houdini's famous flight is struck to proof quality from 99.9% pure silver. Each one ounce coin has a diameter of 40.60 mm and a width of 4 mm.
Limited to a 7,500 mintage, the coin is considered legal tender under the Australian Currency Act of 1965. As such, the obverse has Ian Rank-Broadley's effigy of Queen Elizabeth II of England. The inscriptions 'Queen Elizabeth,' 'Australia,' '1 Dollar' and '2010' surround her.
The reverse features a colorized image of Houdini's Voisin bi-plane placed over wording similar to a typical poster he would have used to promote the stunt. Below the plane is the inscription 'Diggers Rest March 18th 1910 Australian Centenary of Flight.'
The Houdini flight coins are available from the Perth Mint for $81.36 AUS and come in a presentation case with an illustrated shipper and a certificate of authenticity.
2010 Australian Centenary of Flight Silver Proof Coin Images
About the Perth Mint
The Perth Mint, wholly-owned by the State Government of Western Australia, is the official issuer of the Australian Federal Government's Gold and Silver Bullion Coin Program. The Mint opened in 1899 in response to the discovery of rich gold deposits in Coolgardie and Kalgoorlie. It was Australia's third branch of Britain's Royal Mint – the others being the Sydney Mint and the Melbourne Mint (both closed).
The Perth Mint remained under Britain's jurisdiction until 1 July 1970, when ownership transferred to the State Government of Western Australia.
In 2003, The Perth Mint officially opened an 8,400 square metre state-of-the-art manufacturing facility next door to its original limestone building. Dominating the Mint's heritage precinct, these two important buildings are powerful symbols of more than 100 years of minting excellence in Western Australia.