The United States Mint's bullion American Silver Eagles have taken off. Not only was August the third highest selling month this year, but it was also the best August for the series since its start in 1986. The month ended with sales of 4,935,000.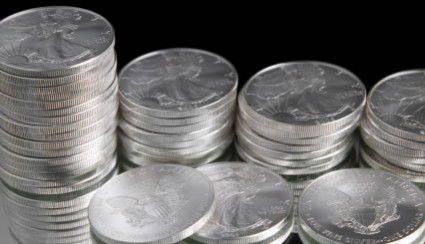 It would have ended a higher if sales had not been restricted. Read More…
Just like the previous report, last year's 2014-W Proof American Silver Eagle was the weekly sales winner among United States Mint silver products. Moreover, it makes it the third time this month that the 2014-dated Eagle outpaced this year's coin.
The older coins spiked 13,842, despite having gained 14,774 in the prior round. Read More…
Leading in the latest U.S. Mint sales stats was the 2014-W Proof American Silver Eagle. Buyers picked up 14,774 of last year's issue, compared to just 3,423 of the 2015-dated Silver Eagle, during the week.
It was the second time this month that sales of the older coin outpaced the newer one. Read More…
High demand for the newly released 2015 Dwight D. Eisenhower Coin & Chronicles Set caused its sellout within minutes of its release on Tuesday.
Only 17,000 were produced, and 16,820 of them had sold in approximately 15 minutes of their launch Read More…
On Tuesday, August 11, the United States Mint at noon EDT will begin selling the 2015 Dwight D. Eisenhower Coin & Chronicles Set with its silver medal, $1 coin, and stamp.
The set may be purchased for $57.95 and it has a product limit of 17,000, the same price and limit as the prior 2015 Harry S. Truman Coin & Chronicles Set which sold out in under 15 minutes. Read More…
Among the fastest movers in the latest United States Mint sales stats were proof American Silver Eagles. This time, however, the winner between the two available versions was not the ones dated from this year.
2014-W Proof Silver Eagles spiked by 27,676 in this round and was followed by the 2015 strikes which jumped by 21,920. Read More…
New silver coins portraying one of Australia's most popular animals, the koala, are now available from the Perth Mint of Australia.
Koala silver coins are an annual tradition from the Perth Mint, and always include several bullion and numismatic releases throughout the year. Read More…