Star Spangled Banner Silver Dollars Coins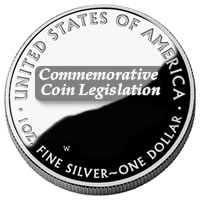 A newly passed law will help celebrate the bicentennial writing of the Star-Spangled Banner with commemorative gold and silver coins.
The United States Mint will strike up to 500,000 Star Spangled Banner Silver Dollars and a maximum of 100,000 $5 gold commemoratives for issue during the calendar year beginning on January 1, 2012.
The Star-Spangled Banner Commemorative Coin Act was introduced as H.R. 2097 in the U.S. House by Rep. Dutch Ruppersberger on April 23, 2009. It passed in the House on September 9, 2009, and then in the Senate on August 2, 2010. President Obama signed the Act into Public Law 111-232 on August 16, 2010.
The 2012 Star Spangled Banner Silver Dollar will feature the typical commemorative specifications for silver coins:
Weigh 26.73 grams,
Contain 90% silver and 10% copper, and
Have a diameter of 1.5 inches
The companion $5 gold piece will weigh 8.359 grams, have a composition of 90% gold and a diameter of 0.850 inches.
Inscriptions for each gold and silver coin will feature: '2012', 'Liberty', 'In God We Trust', 'United States of America', and 'E Pluribus Unum'.
The Star-Spangled Banner Commemorative Coin Act states that the coins must have a design:
"Emblematic of the War of 1812 and particularly the Battle for Baltimore that formed the basis for the Star-Spangled Banner."
Francis Scott Key wrote the Star Spangled banner after a 25-hour British bombardment of Fort McHenry, in Baltimore, Maryland, during the War of 1812. On March 3, 1931, President Herbert Hoover signed a resolution of Congress that officially designated the Star-Spangled Banner as the National Anthem of the United States.
As is also typical with commemorative coin legislation, every coin sold will include a surcharge — $10 for each silver dollar and $35 for each $5 gold coin. The surcharges will be paid to the Maryland War of 1812 Bicentennial Commission to support bicentennial activities, educational outreach, and preservation and improvement activities pertaining to the sites and structures relating to the War of 1812.
U.S. Law dictates that there may only be two commemorative coins issued each year. For 2012, the Star Spangled Banner Commemorative Coin Act joins the National Infantry Museum and Soldier Center Commemorative Coin Act. The latter was signed into law on October 8, 2008, and authorizes up to 350,000 silver dollars to honor the United States Infantry.