2010 America Quarters Silver Proof Sets Available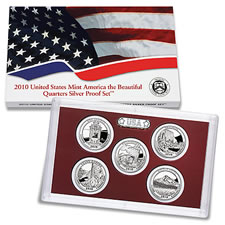 On May 27th, the United States Mint released the 2010 America the Beautiful Quarters Silver Proof Set™. The set includes five proof silver quarter-dollars with the new 2010 reverse themes.
The new 2010 designs are part of the America the Beautiful Quarter™ series that will last until 2021.
Five new coin designs will appear each year. Each coin in the series will feature a design on the reverse side that is emblematic of a selected National Parks or Site found in the US.
Every state plus the District of Columbia and the five US territories are included in the program.
This year's silver quarter-only proof set include:
2010-S Hot Springs National Park Quarter
2010-S Yellowstone National Park Quarter
2010-S Yosemite National Park Quarter
2010-S Grand Canyon National Park Quarter
2010-S Mt. Hood National Forest Site Quarter
Each coin is struck at the San Francisco Mint and bears the "S" mint mark. Circulating 25-cent pieces are minted in either Denver or Philadelphia.
The coins in the set are different than circulation coins because they are specially struck in proof quality and contain 90% silver and 10% copper. Regular circulation quarters contain about 92% copper and about 8% nickel. The price of the silver quarter proof set is $32.95.
Later this summer the Mint will begin issuing America the Beautiful Silver Bullion Coins, which are duplicates of the quarters, but much larger. They will have a diameter of 3 inches and weigh 5.0 ounces. Also, unlike the quarters in the proof set that are minted from the aforementioned 90%, the bullion coins will be made of .999 fine silver.
Interested buyers can purchase the 2010 America the Beautiful Quarters Silver Proof Set directly from the Mint website or by calling its toll-free number at 1-800-USA-MINT (872-6468).
No limits are in place, but an order will include the standard $4.95 shipping and handling charge. Expected shipping time is 1-2 weeks.