2010 Australian Kookaburra Bullion Silver Coins
A newly designed image of perhaps Australia's best known and loved bird is featured on the reverse of the new 2010 Australian Kookaburra Bullion Silver Coins.
Struck from 99.9% pure silver by The Perth Mint, the coins have become a perpetual favorite among collectors and investors alike. Part of the attraction is that they are offered in three different sizes — 1 kilo, 10 oz and 1 oz.
This silver series was first issued in 1990 and features an annually changing Kookaburra design on the reverse of each coin, which is most intriguing. The 2010 design showcases a right-facing kookaburra perched on a large branch. Underneath the bird are the inscriptions '2010,' the size and '999 Silver.' Over the bird lies the words 'Australian Kookaburra.'
The laughing kookaburra in the largest member of the kingfisher species and are indigenous to Australia. Named 'laughing' in reference to their call which resembles human laughter, the sound has been featured in many movies and on television.
The obverse of the coin contains a portrait of Queen Elizabeth II with the inscriptions 'Elizabeth II,' 'Australia' and the denomination of the coin surrounding her. Considered legal tender, under the Australian Currency Act of 1965, the coins weight and purity are also guaranteed by the government.
No mintage limits have been set for the 1 kilo and 10 oz coins, but only 300,000 of the 1 oz silver coins will be struck. Each ship in protective acrylic capsule.
The coins will be available worldwide through The Perth Mint Web site, or through its authorized distributors and coin dealers:
[phpbay]Australia Kookaburra Coin, 4, "", ""[/phpbay]
2010 Kookaburra Silver Coin Specifications
| | | | |
| --- | --- | --- | --- |
| Size | 1 Kilo | 10 oz | 1 oz |
| Silver Content | 32.151 Troy oz | 10 Troy oz | 1 Troy oz |
| Face Value | $30 AUS | $10 AUS | $1 AUS |
| Minimum Gross Weight | 1,001.002 gms | 311.347 gms | 31.135 gms |
| Maximum Diameter | 100.60 mm | 75.60 mm | 40.60 mm |
| Maximum Thickness | 14.60 mm | 8.70 mm | 4.00 mm |
Australian Kookaburra Silver Coin Image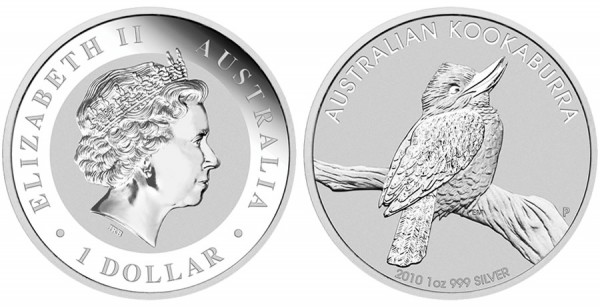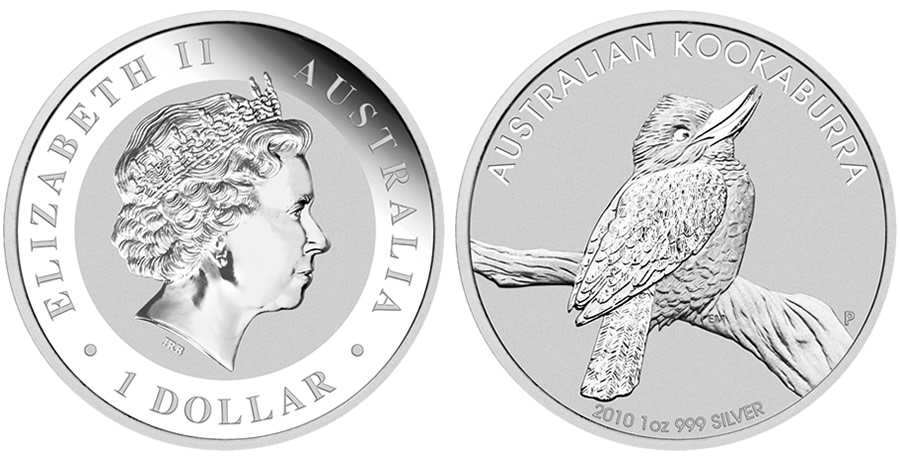 About the Perth Mint
The Perth Mint, wholly-owned by the State Government of Western Australia, is the official issuer of the Australian Federal Government's Gold and Silver Bullion Coin Program. The Mint opened in 1899 in response to the discovery of rich gold deposits in Coolgardie and Kalgoorlie. It was Australia's third branch of Britain's Royal Mint – the others being the Sydney Mint and the Melbourne Mint (both closed).
The Perth Mint remained under Britain's jurisdiction until 1 July 1970, when ownership transferred to the State Government of Western Australia.
In 2003, The Perth Mint officially opened an 8,400 square metre state-of-the-art manufacturing facility next door to its original limestone building. Dominating the Mint's heritage precinct, these two important buildings are powerful symbols of more than 100 years of minting excellence in Western Australia.