2010-P Grand Canyon 5 Ounce Silver Uncirculated Coin Available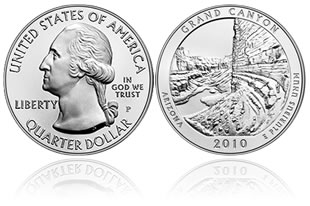 Collectors were able to start purchasing the 2010-P Grand Canyon National Park 5 Ounce Silver Uncirculated Coin today, June 29, 2011, when the United States Mint began offering them at Noon Eastern Time.
The US Mint is selling the five ounce America the Beautiful Silver Uncirculated Coin honoring the site in Arizona for $279.95, with a household order limit of one in place.
Maximum mintage for the Grand Canyon coin is capped at 27,000 units. This is the same level that was available for the preceding three strikes in the America the Beautiful series, including silver coins honoring Hot Springs National Park, Yellowstone National Park and Yosemite National Park.
If these Grand Canyon coins follow the precedence established by the previous releases, it is likely that a majority of them will have been sold by the end of the weekend. All three prior coins saw sales in their first four days accounting for over 75% of the available mintage. In fact, a majority of that percentage came from the first day as collectors wasted little time in making their purchases. Each sold out in about two weeks.
The Grand Canyon uncirculated coins is struck from five ounces of .999 fine silver to the large diameter of three inches. The specifications makes this series relatively unique among United States Mint products. It is not, however, the first time the Mint has created coins of this size. The series is actually based on the Mint's America the Beautiful Silver Bullion Coin™ Program for investors, which are minted to identical specifications.
The bullion coins share the same designs as the uncirculated strikes, but made their debut last year when the first five coins in that series was issued. The inclusion of a 'P' mintmark on the collector grade coin differentiates the strike from its bullion counterpart, although all the five ounce coins are struck in Philadelphia.
Both series contain the same obverse including a portrait of George Washington by John Flanagan. This portrait is a familiar one to most as it has been used on circulating quarter dollars since 1932.
Shown on the reverse of the Grand Canyon coins is an image of the granaries above the Nankoweap Delta in Marble Canyon near the Colorado River found in Grand Canyon National Park. The reverse was designed and sculpted by U.S. Mint Sculptor-Engraver Phebe Hemphill.
Each 2010-P Grand Canyon National Park 5 Ounce Silver Uncirculated Coin will ship encapsulated in a plastic holder to protect its finish along with a black outer box and a certificate of authenticity.
Orders may be made online at the United States Mint's website, http://www.usmint.gov/catalog, or by calling their toll free number 1-800-USA-MINT (872-6468).