Finland Peace and Security Silver Coin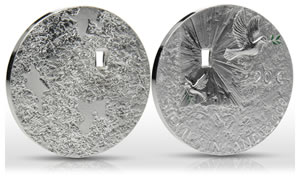 Former President of Finland and Nobel Peace Prize winner Martti Ahtisaari had the distinction of striking the first "Peace and Security" silver coin from the Mint of Finland Ltd.
This Peace coin is the first in a new series called the "Ethical Collector Coins" that will be themed around relevant topics of the day.
Making this coin more unique is the fact that it is the first Finland silver collector coin in history to be issued with a face value of 20 euros.
"Peace and security is always a topical theme and suitable for launching a new coin set," said Mint of Finland's CEO Maarit Aarni-Sirviö in talking about the Peace coin. "We are glad that president Ahtisaari who is globally known to have led difficult peace negotiations is willing to appreciate this first strike of a coin that conveys such an important message."
Each new coin theme in the series will be determined by the Collector Coin Committee which is established by the Finnish Ministry of Finance. Once the theme is known, designs will be called for. In the instance of the Peace coin, 72 different designs were submitted, with one by sculptor Tapio Kettunen chosen.
Included with each coin is a Certificate of Authenticity signed by President Ahtisaari which also includes a quotation from his speech at the Oslo Nobel Peace Prize ceremony, "Peace is a matter of will."
A maximum of 15,000 of these coins will be struck to a diameter of 38.61 mm with a weight of 33.62 grams. The Kettunen design features two doves (internationally known as symbols of peace), each holding an olive branch in its beak. Both birds are shown flying from an open window area of the coin. Also seen are the inscriptions of the face value, "2009" and "Suomi Finland."
Those interested in purchasing one of the silver Peace coins may do so at one of the Mint of Finland's official retailers, like Rahapaja Moneta at www.rahapajamoneta.fi.
Finland Peace and Security Silver Coin Image