Girl Scouts Silver Commemorative Coins in 2013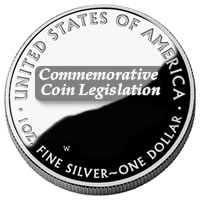 The US Mint will issue up to 350,000 silver commemorative coins in 2013 thanks to the Girl Scouts USA Centennial Commemorative Coin Act, which President Obama signed into law on Oct. 29.
The act, which was introduced as House Resolution 621 by Rep. Jack Kingston, enjoyed bipartisan support. A companion bill in the Senate, S. 451, was introduced by Sen. Susan Collins guaranteeing quicker recognition in both chambers.
When Congress passed the legislation, its clearance to become law was a foregone conclusion, and only a matter of scheduling for the President to sign. It will now be noted as Public Law 111-86.
"This is a wonderful honor for Girl Scouts," said Cloninger, CEO of Girl Scouts of the USA.

"Congress only allows the minting of two coins a year and this is such a fitting way to honor our Movement and the million of girls and women whose lives Girl Scouting has touched.

We are grateful to the President, the House and the Senate for their support."
Public Law 111-86 mandates that the Secretary of the Treasury, in collaboration with the Girl Scouts of the United States of America and the Commission of Fine Arts, to design the coin in a manner "emblematic of the centennial of Girl Scouts."
The Girl Scouts USA Centennial Commemorative Coin Act includes a provision for a $10 surcharge per coin paid to the GSUSA and made available for Girl Scout program development and delivery.
Boy Scouts will be honored as well. The Boy Scouts Centennial Commemorative Coin Act was signed into law in Oct. 2008. It authorizes 350,000 silver dollar coins in 2010 to celebrate the 100th anniversary of the Boy Scouts of America.