"Green Coin" Design Contest Opens Internationally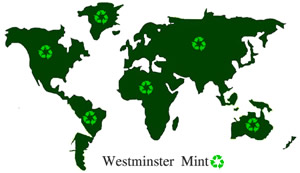 A pure silver, environmentally themed "Green Coin" is in the works, and Westminster Mint, Inc. would like the public's help in designing it.
Westminster Mint, one of the U.S.'s largest silver bullion dealers, has launched an international contest and will select a winning design that best depicts green themes, such as "global warming, climate change, recycling, energy efficiency, conservation and clean fuels."
To mark the 39th Anniversary of Earth Day, the company will strike the one-ounce, .999 silver Green Coin to 39 millimeters.
"We want to mint a silver bullion coin that speaks to the key environmental issues we're facing today, and we believe that this coin design contest will draw more attention to those important issues" Westminster Mint President Ian Clay said in an announcement.
The contest winner will not only see their design minted in silver, they will receive $2,009 (in cash or in silver equivalent), the first Green Coin struck and the hand sculpts created by world renowned sculptor Caesar Ruffo.
The mint will unveil the final silver product in July and make it available to the public.
The deadline for submitting a design is June 30, 2009. For contest rules and guidelines, visit http://www.coin-rare.com/contest.aspx.