Iconic Golden Hind Ship Featured on Silver Proof Coin
The 2011 Golden Hind Silver Proof Coin is now available from The Perth Mint of Australia as the second strike in its Ships That Changed the World Series. A maximum of 5,000 of the silver coins will be released by the Mint.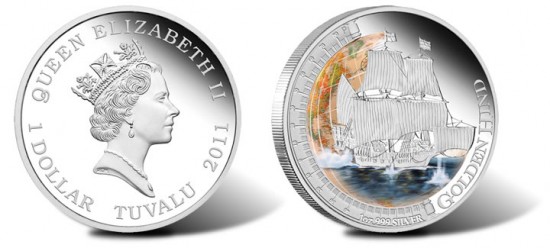 The Golden Hind coin follows a strike honoring Christopher Columbus' Santa Maria which was issued by the Perth earlier this year. Three more coins are scheduled to be released in the series with reverse designs depicting the Mayflower, the Constitution and the Cutty Sark.
Each of the silver coins in the program is struck as legal tender of the country of Tuvalu with a face value of one dollar. The strikes are composed of one ounce of 99.9% pure silver with obverses containing Raphael Maklouf's effigy of Queen Elizabeth II of England, Inscriptions include the face value of "1 Dollar," in addition to "Tuvalu," "Queen Elizabeth II" and "2011."
Reverse Design of Golden Hind Silver Proof Coin
Shown on the reverse of the strike is a colorized image containing the likeness of the ship known as the Golden Hind. Surrounding the ship are the inscriptions of "Golden Hind" and "1 Oz 999 Silver."
The Golden Hind was captained by Sir Francis Drake as it sailed around the world between 1577 and 1580. Drake named the ship for a principal patron of the expedition, Sir Christopher Hatton, whose crest included the image of a hind (female deer). The primary mission of the expedition was to explore the coast beyond the Strait of Magellan near South America for England. However, the Queen of England also surreptitiously authorized Drake to loot any property of Spain that he were to encounter.
Drake fulfilled the Queen's secondary mission and returned to England with a hold full of Spanish treasure. To reward his actions, the Queen boarded the Golden Hind and knighted Drake upon his arrival.
Each Golden Hind Silver Proof Coin will ship in a presentation box inside an illustrated shipper containing a full-color rendition of the Golden Hind. A numbered certificate of authenticity will be included as well.
Individuals interested in purchasing the coin may do so directly from The Perth Mint for AUS $97.27 (~$100 US).
About the Perth Mint
The Perth Mint (http://www.perthmint.com.au/) was originally established in Australia by the Royal Mint of England in 1899 to process and strike gold recovered from the rich deposits of the region. In 1970, ownership of the Perth was transferred to the State Government of Western Australia and it was declared the official issuer of the Australian Federal Government's Gold and Silver Bullion Coin Program. It continues in that role today along with operating as one of the most respected gold refineries in the world.