March of Dimes Commemorative Silver Dollars for 2015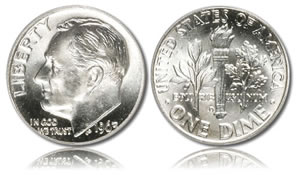 The U.S. Mint in 2015 will produce, market and sell commemorative silver dollars to recognize the 75th anniversary of the March of Dimes Foundation.
As directed by the March of Dimes Commemorative Coin Act of 2012, which became law (Public Law 112-209) when President Obama signed it on Tuesday, December 18, 2012, the U.S. Mint must strike up to 500,000 silver dollars in collectible qualities of uncirculated and proof.
President Franklin D. Roosevelt on January 3, 1938 established the organization as the National Foundation for Infantile Paralysis to combat the polio epidemic. In its early years, children donated dimes to help fund the organization. That led to its "March of Dimes" nickname.
The nickname stuck and was officially adopted by the organization in 1976. Since its founding, the foundation has become the leading non-profit agency related to preventing birth defects, premature birth and infant mortality. The 10-cent coin is a reminder of Roosevelt's association with it. His portrait has been on the dime since 1946.
March of Dimes coins will feature the same specifications as other modern commemorative silver dollars, including a 90% silver and 10% copper composition. Each will feature a weight of 26.73 grams and a diameter of 1.5 inches.
Legislation for the commemorative coins debuted in the U.S. House of Representatives on October 13, 2011 with its introduction by Rep. Robert J. Dold (R-IL). The Act received strong bipartisan support. The House passed the legislation on August 1, 2012 and the Senate followed on December 10, 2012.
"I am proud to have introduced this bill with Congresswoman Nita Lowey and have 305 cosponsors in the House and 72 in the Senate," said Rep. Dold.

"This bill passed with overwhelming bipartisan support in both Chambers in an effort to honor the 75th anniversary of the March of Dimes by minting a commemorative coin. The proceeds from this effort will go to fund critical research and programs that support healthy mothers, infants and families."
Designs for the silver dollars will be "emblematic of the mission and programs of the March of Dimes, and its distinguished record of generating Americans' support to protect our children's health." The U.S. Mint will present design candidates to the Citizen's Coinage Advisory Committee for review before the Secretary of the Treasury selects final obverse and reverse designs after consulting with the U.S. Commission of Fine Arts and the March of Dimes.
The Act includes surcharge language for sales of each silver dollar. A $10 surcharge will get tacked on every coin with proceeds forwarded to foundation to help finance research, education, and other services with an overall goal of improving the health of women, infants, and children.