National Park Service 100th Anniversary Silver Coins Proposed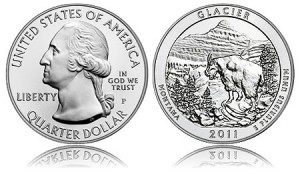 Legislation introduced in the House seeks commemorative $5 gold coins, $1 silver coins and 50-cent clad coins to celebrate the 100th anniversary of the National Park Service.
Officially named the National Park Service 100th Anniversary Commemorative Coin Act and numbered H.R. 5840, the bill would have the United States Mint strike the coins for calendar year 2016 to coincide with the centennial creation of the NPS.
The bureau was established in 1916 by the National Park Service Organic Act to "conserve the scenery and the natural and historic objects and the wild life therein and to provide for the enjoyment of the same in such manner and by such means as will leave them unimpaired for the enjoyment of future generations." Since then, the NPS has grown from 37 parks with 6,000,000 acres of land to more than 395 with 84,000,000 acres of land.
While no coin has been minted to honor the NPS directly, there have been several related coins and series honoring specific national parks. The 1999 Yellowstone silver dollar comes to mind. Most visible today is the America the Beautiful Quarters® program which will offer up to 56 national park quarters or national site quarters between 2010 and 2021 — one coin for a specific site in each state, territory and the District of Columbia. (There is also, of course, the companion America the Beautiful 5 oz. coin series.)
H.R. 5840 states that designs for each commemorative coin must be emblematic of the NPS's 100th anniversary and specifies maximum mintages of 100,000 for the gold pieces, 500,000 for the silver coins and 750,000 for the clad half dollars. The U.S. Mint would create the coin designs and the CCAC would review them. The Treasury Secretary would be tasked to make the final selections after consulting with the National Park Service, National Park Foundation and the CFA.
Coin specifications within the legislation match that of modern commemoratives — 90% gold and 10% alloy for the gold coins, 90% silver and 10% copper for the silver coins and the standard clad composition found in Kennedy half dollars for the commemorative 50-cent pieces.
Outlined surcharges include $35 per sale of the $5 gold coin, $10 for each of the $1 silver coins and $5 per half dollar. Collected funds would be paid to the National Park Foundation for projects and programs that help preserve and protect resources under the stewardship of the NPS.
The National Park Service 100th Anniversary Commemorative Coin Act was introduced by Rep. John J. Duncan, R-TN2, on May 18, 2012. As of today, June 20, 2012, the bill has six cosponsors. It currently resides in the House Committee on Financial Services. For H.R. 5840 to become law, it must win approval in the House, Senate and get signed by the President.