Olympic National Park 5 Ounce Silver Bullion Coin Debuts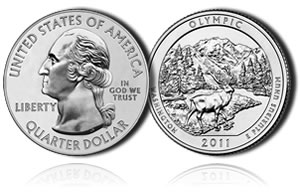 The United States Mint on Monday, May 23, began selling the Olympic National Park 5 Ounce Silver Bullion Coin to its established network of Authorized Purchasers (AP's). AP's purchased 60,700 on the first day, according to the latest coin sales figures provided by the bureau.
The Olympic silver bullion coin, honoring the national park in Washington, is the third 2011 issue from the Mint's America the Beautiful Five Ounce Silver Bullion Coins Program, and the eighth since the series started in 2010.
The United States Mint indicated that for now, 126,700 Olympic silver coins were struck, but more may come at a later date depending on demand and materials.
To start, the 5 ounce silver coins were equally allocated between participating silver AP's. The minimum allowed order is 2,000 coins and orders must be placed in 100 coin increments. Any unsold silver coins after the first week will be available for all of the participating AP's until the entire mintage is depleted.
An eventual sell out of the issue appears to be in the wind given that the first two 5 ounce issues of 2011 sold out on May 16. The Gettysburg Silver Bullion Coin (Pennsylvania) and the Glacier Silver Bullion Coin (Montana) were made available on April 25, 2011.
Last year's silver coins also maxed out in a matter of weeks, although a smaller mintage of 33,000 per design were struck. All five launched on December 10, 2010 and were gone by December 27.
The Olympic National Park 5 Ounce Silver Bullion Coin is intended for investors. The collector uncirculated version will be sold by the United States Mint at a later, yet-to-be determined date.
The Olympic National Park Quarter will also be released later, with a scheduled launch date of June 13, 2011. The designs of the America the Beautiful Silver Coins — both bullion and collector uncirculated — are the same as the obverse and reverse of the circulating America the Beautiful Quarters®.
The next two 5 ounce silver bullion coins coming up will be Vicksburg Silver Bullion Coin (Mississippi) and the Chickasaw Silver Bullion Coin (Oklahoma).