Order Limits Removed for 2010-P Mount Hood 5 Ounce Silver Coins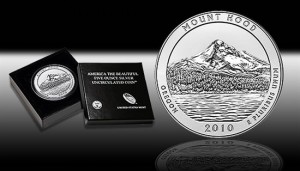 Order limits for 2010-P Mount Hood National Forest 5 Ounce Silver Uncirculated Coins have been removed, the United States Mint online store at http://catalog.usmint.gov/ denotes.
The collector 5 ounce coins were released on July 28, 2011 for $279.95 and originally had one coin per household order limit. Buyers can now order as many of them as they want, although the latest sales figures through to September 2, 2011 indicate 20,094 of the available 27,000 have been purchased.
Mount Hood Silver Uncirculated Coins are the final 2010-dated issues available. The previous four have sold out and the United States Mint is yet to offer any of the 2011-dated coins. The 5 ounce coin honoring Gettysburg National Military Park is scheduled for release on September 22, 2011, and marks the first of five issues with a 2011 date.
All America the Beautiful Five Ounce Uncirculated Coins have launched with order limits. When the previous Grand Canyon limit had been removed, buyers quickly snapped up more than 2,000 in a week. Sales should jump for the Mount Hood coin as well, although it would seem a sellout, if one indeed happens, is off into the distance. The sales pace has slowed with each successive release in the 5 ounce coin series.
The 2010-P Mount Hood National Forest 5 Ounce Silver Uncirculated Coin features a reverse design which depicts a scene of Mount Hood with Lost Lake in the foreground. It was designed and sculpted by Phebe Hemphill.
The United States Mint also sold a bullion version of the coin, which lacks the "P" or Philadelphia mint mark that is found on the collectible piece. All of the 2010-dated bullion 5 ounce coins sold out in December. Each of them, including the one honoring Mount Hood National Forest, had a mintage limit of 33,000.