Senate Passes U.S. Marshals Commemorative Coins in Silver, Gold and Clad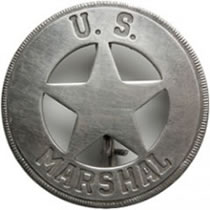 It appears certain that the United States Mint will be striking commemorative coins composed of silver, gold and clad in year 2015 to honor the 225th Anniversary of the U.S. Marshals Service. Legislation requiring the commemoratives passed in the U.S. Senate on Thursday, March 15, 2012.
The Senate approved an amended H.R. 886, named the United States Marshals Service 225th Anniversary Commemorative Coin Act, by Unanimous Consent. The Senate version follows passage of the original H.R. 886 approved in the United States House of Representatives exactly three months earlier, on December 15, 2011.
Changes in the Senate version include a clause stating "minting and issuing coins under this Act will not result in any net cost to the United States Government." The amendment further stipulates that surcharges collected on the sale of the strikes shall not be distributed "until the total cost of designing and issuing all of the coins authorized by this Act (including labor, materials, dies, use of machinery, overhead expenses, marketing, and shipping) is recovered by the United States Treasury."
"The commemorative coin recognizes the influential work the men and women of the U.S. Marshals Service, the country's oldest law enforcement agency, have done and continue to do for this nation," said Sen. John Boozman [R-AR], co-sponsor of the Senate version of H.R. 886.
According to the terms of the proposed legislation, the U.S. Mint will strike up to 100,000 $5 gold coins, 500,000 $1 silver coins and 750,000 clad half dollars, including both proof and uncirculated finishes. These commemorative coins will be offered for sale during the calendar year of 2015.
Specifications on these strikes will be identical to other modern commemorative releases. This includes the gold coins being struck from 90% gold and the silver coins from 90% silver.
Design requirements of the Act require the gold and silver coins to showcase an obverse depicting the famous U.S. Marshals Service Star (also known as "America's Star"). The obverse of the half dollar will be emblematic of the Marshal Service and its history.
Reverse design requirements stipulate that the $5 gold coin portray the sacrifice of members who lost their life in the line of duty The silver dollars will feature a reverse emblematic of the Marshals "legendary status in America's cultural landscape." The half dollars will depict the role U.S. Marshals have played in changing the history of the United States.
The bill must now return to the House of Representatives for approval of the changes. It will then be forwarded to the President of the United States for his signature before it can become law.