Silver Eagle Coins from US Mint Placed on Hold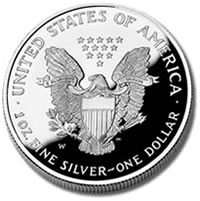 The United States Mint has placed a hold on collector 2009 Silver Eagle coins so it may focus on producing bullion versions for investors.
The following Mint announcement is placed on the proof and uncirculated American Eagle Silver Coin Mint pages:
Production of United States Mint American Eagle Silver Proof and Uncirculated Coins has been temporarily suspended because of unprecedented demand for American Eagle Silver Bullion Coins. Currently, all available silver bullion blanks are being allocated to the American Eagle Silver Bullion Coin Program, as the United States Mint is required by Public Law 99-61 to produce these coins "in quantities sufficient to meet public demand . . . ."
The United States Mint will resume the American Eagle Silver Proof and Uncirculated Coin Programs once sufficient inventories of silver bullion blanks can be acquired to meet market demand for all three American Eagle Silver Coin products.
The same reasoning was provided by the Mint in 2008 for several other bullion coin stoppages. Sales of proof Silver Eagles were halted in August of 2008, and never continued.
While that scenario seems very unlikely for the 2009-dated coins since they have yet to be placed on sale, interested collectors would be wise to order quickly when they are offered.
For a slightly more detailed perspective, read 2009 Eagle Silver Coins Suspended.