Silver Ends First Half of 2012 Lower; Eagle Coins Top 17M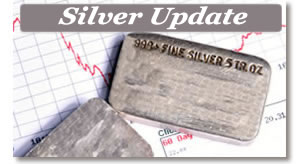 U.S. silver soared Friday to lift the white metal into the black for the week and nearly for the month.
On the Comex in New York, silver prices for September delivery surged $1.32, or 5%, to settle at $27.61 an ounce and notch a 3.6% weekly gain. Prices traded between an intraday low of $26.27 an ounce and a high of $27.92 an ounce.
Silver prices and other commodities bounced higher Friday on news that European leaders struck a deal to more aggressively address euro zone debt issues.
"Investor sentiment improved on news from the EU summit and many commodity prices rebounded," Anton Zakharov, a commodity analyst at OAO Promsvyazbank in Moscow, said today in an e-mail relayed on Bloomberg.
For June, silver traded down 15 cents, or 0.5%, registering a fourth straight monthly loss after rallying 19.2% in January and 4.2% in February.
For the quarter and first half of 2012, silver prices fell 15% and 1.1%, respectively.
In other New York precious metals futures on Friday and for the month:
August gold prices settled to $1,604.20 an ounce for a 2.6% gain in June,
October platinum prices closed at $1,452.40 an ounce for a 2.5% monthly pick-up, and
September palladium prices settled to $584.55 an ounce for a 4.8% loss in June
For the quarter, precious metals losses were 4% for gold, 11.7% for platinum and 10.6% for palladium. Gold and platinum remain higher in 2012 with increases of 2.4% and 3.4%, respectively. Palladium has plunged 10.9% this year.
Also on Friday, the London silver Fix was $27.08 an ounce, up 27 cents or 1%. For June, it fell $1.02 or 3.6%. For the quarter and year, London silver has fallen 16.5% and 3.9%.
In other London fixings for the day and month, gold at $1,598.50 an ounce advanced 2.6% in June, palladium at $578 an ounce declined 5.4% for the month and platinum at $1,428 an ounce added 1.6% for the month.
American Silver Eagle Coins
Sales figures for bullion Silver Eagle coins have not been finalized for June. Yet, they are unlikely to change from the available published U.S. Mint sales data that places them at 2.593 million. The monthly level ranks fourth best for the year, down from the 2.875 million in May.
For 2012 so far, U.S. Mint buyers have scooped up 17.127 million of the 99.9% fine Silver Eagle coins. The pace is the third quickest through the first half of a year in the coin's 26-year history, trailing six-month sales in 2011 and 2010 that respectively totaled 22,303,500 and 18,168,500.