Silver Plunges 8.1% in New York, 6.7% in London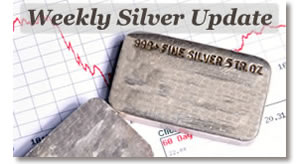 Silver prices fell of a cliff this week in both New York and London. The metal suffered respective weekly losses of 8.1 percent and 6.7 percent.
Price declines began to slope lower on Wednesday, after gold struggled following news that China was beginning to tighten bank lending which boosted the US dollar. Gold generally moves opposite of the greenback, and silver typically tracks the yellow metal's direction.
New York silver futures for March delivery ended at $16.932 an ounce, falling $1.50 this week. London silver was fixed at $17.28 an ounce, dropping $1.24 for the week. Prices peaked on Monday at $18.66 an ounce. Friday was the low point.
Silver is ready to rise, according to Dr. Jeffrey Lewis in an article on SilverSeek.com entitled 4 Reasons Why Silver is the Most Undervalued Commodity.
"Gold and silver typically trade within a range of 20-70 ounces of silver to the price of gold. Today, the ratio is roughly 62.2 ounces of silver to one ounce of gold, which is the highest it has been in years," states Lewis. "When the ratio nears 70, investors buy silver and sell gold. When it nears 20, investors are selling silver to buy gold. This ratio, which has long been important to commodity traders and long-term investors alike, suggests silver is ready for a rally."
London precious metal weekly prices follow:
London Fix Precious Metal Prices

Gold

Silver

Platinum

Palladium

AM

PM

AM

PM

AM

PM

1/15/2010
1132.00
1128.00
18.52
1610.00
1600.00
452.00
449.00
1/22/2010
1096.50
1084.00
17.28
1556.00
1540.00
435.00
432.00
Weekly Bullion Price Changes

Up

Down

% Change

$ Change

Silver
X

-6.7%

-$1.24

Gold
X

-3.9%

-$44.00

Platinum
X

-3.8%

-$60.00

Palladium
X

-3.8%

-$17.00
These articles offer precious metals and silver coin news:
For silver news and prices, visit Silver Prices.