Silver Soars 21.5% in First Quarter 2009
With the end of March, the curtains closed to a spectacular precious metal run-up for the first quarter of 2009. Silver soared 21.5 percent, rising $2.32 during the first three months of the year.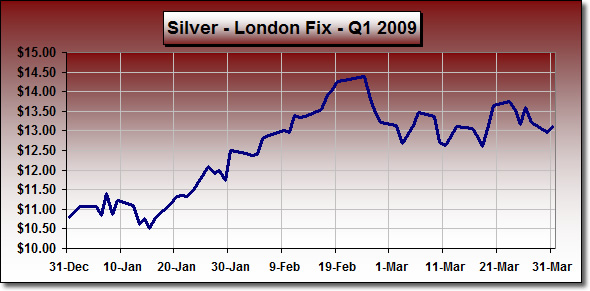 As the chart indicates, London silver steadily climbed to peak at $14.39 an ounce on Feb. 24. Although silver mostly retreated during the last several weeks, it has been a shining beacon — performing substantially better than other markets, including world stocks, oil and even gold.
The only precious metal to perform better was platinum, which surged 25 percent. Silver and platinum were thrashed around toward the end of 2008. This year (so far) investors obviously felt the metals were oversold and under priced.
The following tables lists London precious metal prices for the first quarter of the year:
Precious Metal Prices

Gold

Silver

Platinum

Palladium

AM

PM

AM

PM

AM

PM

12/31/2008
865.00
–
10.79
899.00
–
183.50
–
3/31/2009
918.50
916.50
13.11
1125.00
1124.00
214.00
215.00
Dollar and Percent Changes

Final Dec. 31, 2008 to Ending March 31, 2009

12/31-3-31

Gold

Silver

Platinum

Palladium

$ Change

$51.50
$2.32
$ 225.00
$31.50

% Change

6.0%
21.5%
25.0%
17.2%
To keep on top of daily silver prices, visit the Silver Coins Today Spot Silver page. Past prices are available on Historical Silver Prices.