Silver Weekly Prices Advance 5.4% in US, 3.1% London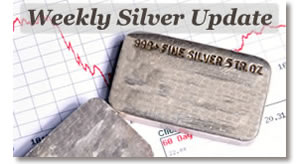 Silver prices rallied during the second week of June to recover most of their losses made during the month's first week. It was the biggest gainer of the precious metals.
U.S. silver surged 5.4% this week as compared to the 6.1% decline during the prior week. New York silver futures for July delivery ended at $18.231 an ounce, jumping 93.2 cents from last Friday. Its high point for the week was reached on Tuesday at $18.48 an ounce.
The London silver fix ended at $18.310 an ounce — just 3 cents off from its highest point on Tuesday, marking a weekly gain of 55 cents or 3.1%. The metal fell 4.2% during the prior week.
The quote of the week, as reiterated on Bloomberg Friday, begins with Citigroup Inc. analysts' overview of gold and leads to a forecast for silver.
"Gold is likely to encounter repeated resistance at the US$1,250 mark over the coming month," David Thurtell and other Citigroup Inc. analysts said in a report. "The seasonal low period for buying in India is upon us, which will take some of the heat out of the market."

Silver may outperform gold prices in the "medium term" on increasing industrial demand, and may reach US$20 in the next six to 12 months, according to Citigroup.
London precious metal weekly prices follow:
London Fix Precious Metal Prices

Gold

Silver

Platinum

Palladium

AM

PM

AM

PM

AM

PM

6/4/2010
1203.50
1203.50
17.760
1546.00
1527.00
450.00
440.00
6/11/2010
1220.50
1220.00
18.310
1542.00
1539.00
451.00
449.00
London Weekly Bullion Prices

Up

Down

% Change

Gain/Loss

Silver
X

3.1%

$0.55

Gold
X

1.4%

$16.50

Platinum
X

0.8%

$12.00

Palladium
X

2.0%

$9.00
For daily prices, check out the silver spot price page.