U.S. Mint Schedule Lists America the Beautiful Quarters Silver Proof Set Release Date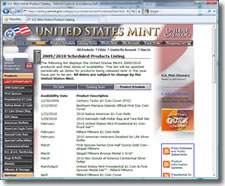 The United States Mint has updated is release schedule for numismatic products and the America the Beautiful Quarters Silver Proof Set is now set to launch on May 27, 2010.
The set is the only upcoming silver product listed with an exact issue date, although there are several quarter offerings scheduled for release in April and May.
This year's quarters silver proof set contains the 90% silver versions of the five 2010 circulating quarters which honor:
Hot Springs National Park in Arkansas,
Yellowstone National Park in Wyoming,
Yosemite National Park in California,
Grand Canyon National Park in Arizona, and
Mount Hood National Forest Site in Oregon
These five coins are the first in a new 11-year series to celebrate National Parks and other National Sites in each state, the District of Columbia and all United States Territories — Puerto Rico, Guam, American Samoa, the U.S. Virgin Islands and the Northern Mariana Islands.
Collectors and investors alike will also stay tuned for the new 5-ounce bullion coins from the new America the Beautiful Silver Bullion Coin™ Program. These are exact duplicates of each of the America the Beautiful Quarters, but are minted in .999 fine silver and have a diameter of three inches. This year's quarter designs were only recently released. (See 2010 America the Beautiful Silver Bullion Coin Designs.)
The Mint has not yet announced a release date for the silver coins, other than saying all five will likely launch at once and sometime in "mid-year."
The annual US Mint Silver Proof Set is set for release in "August/September."
There is no fresh news on whether the collector (uncirculated or proof) 2010 American Silver Eagles will be released. Given the record sales figures for the bullion 2010 Silver Eagles, there is a greater chance that the collector coins could suffer cancellation as happened to the 2009s.
For an updated listing of the schedule, visit the US Mint website here.