US Mint 2011 Silver Proof Set Release in January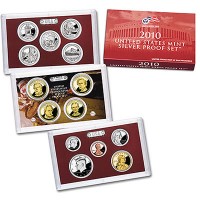 Coin collectors will have an opportunity to purchase United States Mint sets earlier next year, including the 2011 Silver Proof Set.
The U.S. Mint said that the popular silver set, and at least two other "annual core products" — the 2011 Proof Set and 2010 Mint Set, will launch in January 2011.
[Editor's update: The US Mint announced in late December 2010 that the 2011 Silver Proof Set will be issued on January 25, 2011.]
The US Mint is following up on a plan that was first announced in 2008 when it significantly cut the amount of products it sold. One stated reason for doing so was to focus on its bigger products, releasing them earlier in the year to make them "available for customers to purchase for more occasions."
The 2011 Silver Proof Set will include fourteen coins. Ten of them will feature new designs. Seven of them will be composed of 90% silver, bringing the set's silver weight to 1.34 ounces. Included coins will be:
(4) 2011 Presidential $1 Coins (new designs featuring Andrew Johnson, Ulysses S. Grant, Rutherford B. Hayes and James A. Garfield)
(1) 2011 Native American $1 Coin (new design yet to be announced)
(1) 2011 Kennedy half-dollar (90% silver coin)
(5) 2011 America the Beautiful Quarters (90% silver coins honoring Gettysburg National Military Park in Pennsylvania, Glacier National Park in Montana, Olympic National Park in Washington, Vicksburg National Military Park in Mississippi, and Chickasaw National Recreation Area in Oklahoma)
(1) 2011 Roosevelt dime (90% silver coin)
(1) 2011 Jefferson nickel
Each of the coins will be minted in San Francisco, and feature the "S" mint mark.
2011 Silver Proof Set Price Increase?
Pricing for the 2010 Silver Proof Set is $56.95. The 2011 Silver Proof Set price should be the same or very close, although if fresh 30-year high silver prices continue to be the norm as they have been for nearly a month now, the set may see an increase. Using the current spot price of $23.29 an ounce, the silver coins within this year's set now have a melt value of $31.16 — up nearly $5.70 from when they launched on August 26.
While the set's numismatic worth is still greater than its silver melt value, the notable part is that the Mint's cost for silver is much higher. And for next year's release to occur in January, the Mint will likely have to start producing them in December since hundreds of thousands will be purchased. (The 2010 set is already at 358,661, according to the latest US Mint sales figures.) If silver levels remain the same or rise further this year, it would seem likely that the 2011 sets will go up to cover the extra costs.
The Mint does not plan on halting the sale of this year's sets when the 2011 Silver Proof Set is released in January. Instead, they will available through 2011.
The United States Mint also said that it will announce later this fall the schedule of all of its products that will be released in the first quarter of 2011.