US Mint Suspends Sales of Silver Sets and Numismatic Gold Coins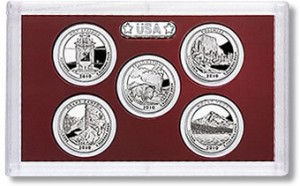 The United States Mint on Friday began rolling out a sea of suspensions across its collector products that affected four silver sets and nearly a dozen numismatic gold coins.
Volatility in gold and silver prices was the instigator behind the numismatic product suspensions, according to the United States Mint. In New York on Friday and into after-hours trading, gold prices jumped by more than $57 to rise over $1,887 an ounce while silver prices surged nearly $2 to a high of $43.50 an ounce. The precious metals closed lower than their highs, but still capped huge daily gains.
The U.S. Mint stopped selling the following silver sets:
2010 America the Beautiful Quarters Silver Proof Set
2010 Silver Proof Set
Additionally, 2011 silver sets were suspended from the Mint's bulk purchase program. They remain available for direct customer purchases.
The United States Mint statement about the silver sets said that they will be available again "after re-pricing." A drop in silver prices will also result in their return. When it comes to United States Mint silver products, new or adjusted prices are typically announced first via the Federal Register, and then implemented.
The Mint's popular 2011 Proof Silver Eagle was not affected by the suspensions as its price just went up. The Silver Eagle suffered its own sales halt on August 24 until its return on August 29 with a $8.50 higher price.
The U.S. Mint suspended the following numismatic gold coins:
All five First Spouse Gold Coins
2011 Proof American Eagle Gold Coins — all four sizes and the 4-coin set
2011 Uncirculated American Eagle Gold Coin
2011 Proof American Buffalo Gold Coin
The United States Mint said the gold coins will be back on sale "after next Wednesday's London PM fix." Typically, when precious metals prices are not so volatile, the Mint's numismatic gold coins have their prices adjusted weekly, if necessary, based on a weekly average of London Fix gold and a published coin pricing guide. The determination on whether gold coin prices will change is normally made after the Wednesday PM fixings.