Yellowstone Five Ounce Silver Uncirculated Coin Sales Debut Strong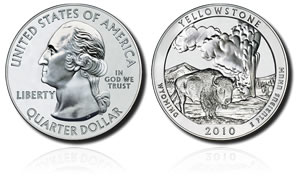 Sales of the 2010-P Yellowstone National Park Five Ounce Silver Uncirculated Coin were exceptional on launch day. Debuting on Tuesday, May 17, at noon Eastern Time, the United States Mint indicated that the majority of the collector uncirculated coins had been ordered by day's end.
The Mint recorded total sales of 18,143 during the first day. The amount places customers' interest in the coin almost on par with the debut strike of the five ounce series, the Hot Springs uncirculated coin which premiered last month.
Hot Springs sales were slightly higher with over 19,000 sold in the first nine hours. But this is understandable owing to several factors, including it is the inaugural (and perhaps key) coin of the series. Also, many collectors knew demand for the issue would be high and feared a quick sell-out, prompting them to place their orders as quickly as possible.
What makes sales of the Yellowstone silver uncirculated coin a bit more surprising, however, is the fact that they remained strong despite the steep drop in silver prices. When the Hot Springs uncirculated coin was initially offered at $279.95, the London Fix for silver closed at $48.70 an ounce. That gave the five ounce, .999 fine silver coin an intrinsic melt value of approximately $243.50, which translated to a premium of about $36.40.
In comparison, the London Fix for silver closed at $34.28 an ounce on May 17 when the Yellowstone uncirculated coin premiered. The math shows the melt value for the coin then at about $171.40, or a much larger difference of $108.55 from its $279.95 sale price.
The demand level indicates that many collectors are willing to stick with the uncirculated series, at least for now, despite high premiums. Put another way, collectors appear more interested in obtaining them more for their numismatic value with little regard to fluctuations in the silver market.
Of course, the Yellowstone Five Ounce Silver Uncirculated Coin is still a fair distance from selling out with its allotted 27,000 mintage. This is the same mintage authorized for the previous Hot Springs uncirculated coin which took nearly two weeks to reach sell-out status.
The Hot Springs and Yellowstone silver coins represent the first two of five 2010-dated strikes minted as part of the inaugural year America the Beautiful Five Ounce Silver Uncirculated Coin Program. The series was created for collectors and as a companion to the Mint's America the Beautiful Silver Bullion Coins™ Program which debuted last year. All the five ounce 2010-dated uncirculated coins were actually struck last year as well, but the United States Mint opted to delay their release until this year.