2008 US Annual Uncirculated Dollar Set Sells Out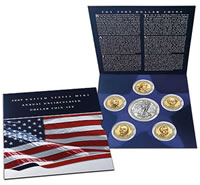 It is atypical to talk about a two-year-old-dated US Mint product only selling out now, but that is exactly the case with the 2008 United States Mint Annual Uncirculated Dollar Coin Set.
The Mint set sold out on Thursday, with the most recent sales figures showing that 98,896 were snapped up by Monday, January 25, 2010.
The set was unique in that it included a 2008-W Uncirculated Silver Eagle. After the Mint canceled both numismatic proof and uncirculated 2009 eagles as a consequence of the enormous demand for the bullion variants, the set was the only way to purchase an uncirculated eagle directly from the Mint last year.
Those cancellations were very likely responsible for the longevity of the product, which was released all the way back on August 7, 2008.
The annual sets were being sold for $37.95. The price was a bargain when considering the cost of purchasing a West Point struck eagle by itself, and then adding in the set's other $1 coins:
2008-P James Monroe Dollar
2008-P Andrew Jackson Dollar
2008-P John Quincy Adams Dollar
2008-P Martin Van Buren Dollar
2008-D Sacagawea Dollar
Collector's who ran the numbers apparently decided to buy more, as sales rallied late after a long period of minimal activity.
A finalized mintage figure for the 2008 Uncirculated Silver Eagles is obviously not yet known, but a closer estimation can now be made. US Mint stats show a revised 436,702 of the silver coins were purchased separately before they sold out on January 23, 2009. After adding in the latest annual set sales figures, there has been AT LEAST 535,598 2008-W Uncirculated Silver Eagles minted.
The level is in the middle of the pact when compared to 2006 and 2007, with their respective mintages of 466,573 and 621,333.