2009 $20 Canadian Autumn Showers Crystal Raindrop Silver Coin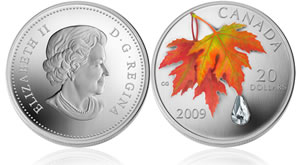 Following on the success of the Royal Canadian Mint's first coin combining colour and crystal applications in 2008, the cherished maple leaf adorned by a glistening drop of water dripping from its surface makes a return with the 2009 $20 Autumn Showers Crystal Raindrop Silver Coin.
Celia Godkin, well-known Canadian author and artist, designed the special limited edition coin. No stranger to coin design (she also designed the 2008 Crystal Raindrop coin), Godkin has also penned several books, including the popular children's book Wolf Island.
From her home in rural Ontario, Celia has drawn inspiration to render a beautiful colored maple leaf complete with a sparkling raindrop composed of CRYSTALLIZED (TM) – Swarovski Elements falling from it.
Swarovski, a name synonymous with crystal beauty for over 100 years, has developed the CRYSTALLIZED (TM) brand. With this new brand, the family run company states they have created the "world's finest loose cut crystal elements."
Combining the colorful maple leaf with the reflective crystal, the $20 denominated coin is composed of 99.99% pure silver. A maximum mintage of 10,000 units will be struck, and each coin will ship encapsulated along with a presentation box and a serialized certificate.
Available July 22, 2009, the coins are priced at CAN $94.95. When issued, they may be ordered world-wide through the Mint page:
Silver Coins from the Royal Canadian Mint
They will also be available directly from the Mint at 1-800-267-1871 in Canada, and 1-800-268-6468 in the US.
Autumn Showers Crystal Raindrop Silver Coin Image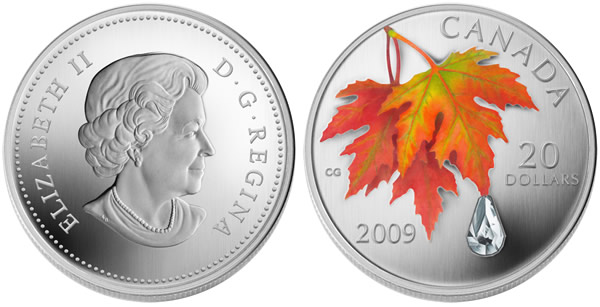 About the Royal Canadian Mint
The Royal Canadian Mint is the Crown Corporation responsible for the minting and distribution of Canada's circulation coins. An ISO 9001-2000 certified company, the Mint is recognized as one of the largest and most versatile mints in the world, offering a wide range of specialized, high quality coinage products and related services on an international scale.
The Mint is an Official Supporter of the Vancouver 2010 Olympic and Paralympic Winter Games and has undertaken to produce the most extensive circulation coin program in relation to the Olympic Games ever conceived by any mint worldwide, while also offering limited mintage collector coins and sets. Visit www.mint.ca/2010 for Vancouver 2010 keepsakes and gifts.