Canadian 2010 Crystal Snowflake Silver Coins Near Sell Out
Two recently released 99.99% pure silver coins featuring a unique crystal snowflake design are almost sold out, the Royal Canadian Mint advised customers late last week.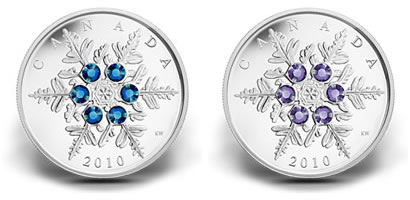 Sales of the Mint's $20 Blue Crystal Snowflake and $20 Tanzanite Crystal Snowflake have each passed 90% of their maximum mintage, which is 15,000 across both options.
The two silver coins were released by the Royal Canadian Mint in October along with its other final 2010 issues. The silver coins feature "intricately engraved snowflakes encrusted with CRYSTALLIZED™ Swarovski Elements," according to the Canadian Mint. The designs, by Mint Engraver Konrad Wachelko, elegantly portray six-sided dendrite ice crystals.
The innovative Crystal Snowflake silver coin series was first introduced in 2007, and has continued since with two annual issues released toward the end of each year. The 2009 releases featured blue and pink crystals, the 2008 silver coins were sapphire and amethyst, and the 2007 pieces were iridescent and blue crystals.
Each coin weighs 31.39 grams, has a diameter of 38 millimeters, includes a serrated edge and a proof finish. The 2010 silver coins are listed for $99.95 (CAD) each.
For more information about the coins or to place an order, visit the Royal Canadian Mint website at www.mint.ca.
About the Royal Canadian Mint
The Royal Canadian Mint is the Crown Corporation responsible for the minting and distribution of Canada's circulation coins. An ISO 9001-2008 certified company, the Mint is recognized as one of the largest and most versatile mints in the world, offering a wide range of specialized, high quality coinage products and related services on an international scale.