2009 $20 Great Canadian Jubilee Locomotive Silver Coin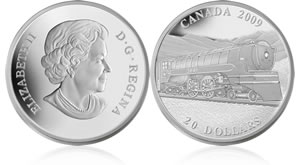 Steaming ahead as the second installment of a series from the Royal Canadian Mint is the 2009 $20 Fine Silver Coin – Great Canadian Locomotives Series: Jubilee. The Jubilee coin follows the Royal Hudson locomotive coin introduced in 2008.
The Jubilee locomotive consisted of 5 different engines introduced in 1936, approximately 50 years after the completion of Canadian Pacific Railway's (CPR) transcontinental system. As a tribute to the anniversary, the series of locomotives were given the moniker 'Jubilee.'
These semi-streamlined race horses were designed with a 4-4-4 configuration, meaning they had four leading wheels, 4 drive wheels and 4 trailing wheels. Produced with the vast distances of Canada in mind, the Jubilee's drive wheels were 80-inches (203 cm) in diameter, and could produce a sustained speed of over 160 kph (99.4 mph).
For almost 40 years, the Jubilees could claim to be the fastest in the world, as engine number 3003 was clocked at 181 kph or 112.5 mph in 1937. This record would not be broken until 1976. No wonder they earned the nickname 'the Flying Ace of the Steel Rails.'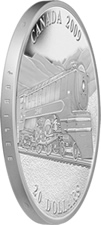 Still a dominant force in the industry of the day, the Jubilee's were propelled by steam-power, a technology that would soon give way to diesel. Not before, however, over half a million Canadians welcomed the Jubilee's as part of exhibition trains throughout Canada.
Coin specifications and order details
The coins commemorating these great locomotives are limited to a mintage of only 10,000. Each $20 denominated coin is struck from 99.99% pure silver in proof condition.
'Jubilee' is inscribed on the plain edge of the coin which will ship encapsulated, along with a presentation box and a serialized certificate.
The coin is priced at CAN $74.95, and available for purchase from around the world. They may be ordered through the Mint page:
Silver Coins from the Royal Canadian Mint
They are also available directly from the Mint at 1-800-267-1871 in Canada, and 1-800-268-6468 in the US.
Canadian Jubilee Silver Coin Image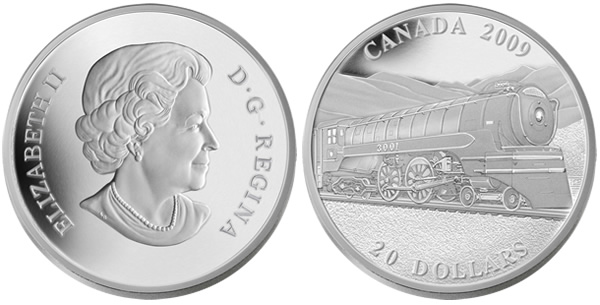 About the Royal Canadian Mint
The Royal Canadian Mint is the Crown Corporation responsible for the minting and distribution of Canada's circulation coins. An ISO 9001-2000 certified company, the Mint is recognized as one of the largest and most versatile mints in the world, offering a wide range of specialized, high quality coinage products and related services on an international scale.
The Mint is an Official Supporter of the Vancouver 2010 Olympic and Paralympic Winter Games and has undertaken to produce the most extensive circulation coin program in relation to the Olympic Games ever conceived by any mint worldwide, while also offering limited mintage collector coins and sets. Visit www.mint.ca/2010 for Vancouver 2010 keepsakes and gifts.