Canadian $25 Figure Skating Silver Hologram Coin Released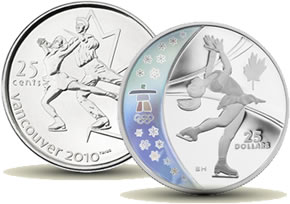 The Royal Canadian Mint on Tuesday honored figure skating by depicting the sport with the launch of a 25-cent circulating coin and a proof $25 silver hologram coin. Each is one in a series of coins to commemorate the Vancouver 2010 Olympic and Paralympic Winter Games.
"Canada has a very proud history in Olympic figure skating and the Mint is delighted to feature this popular winter sport in our extensive coin program," said Ian E. Bennett, President and CEO of the Royal Canadian Mint.
The Mint has issued up to 22 million of the quarters for circulation, as well as special sports cards that includes the 25-cent commemorative for $7.95 each. (Available at the Mint's website and participating Petro-Canada gas stations.) The Mint also offers a first day 25-cent coin for $15.95.
The sterling silver $25 figure skating hologram version has a maximum mintage of 45,000 and is priced at $71.95 (CAN). The coin is made of 92.5% silver, 7.5% copper, weighs 27.78 grams and has a diameter of 40 mm.
Additional details to include online purchase options may be found on the Mint page www.mint.ca/2010.
According to the Mint, Canadians can look forward to the following 2010 Olympic and Paralympic Winter Games themed circulation coins: four 25-cent coins will feature the sports of cross country skiing (January 15, 2009), speed skating (March 12, 2009), bobsleigh (June 23, 2009) and Paralympics sledge hockey (March 16, 2010), while the 2010 Lucky Loonie will be launched on February 9, 2010, just prior to the Vancouver 2010 Winter Olympic Games.
Details on three special circulation coins celebrating the top three Canadian Olympic moments will be announced in the near future by the Mint.