2009 Silver Dollars Commemorate 100th Anniversary of Flight in Canada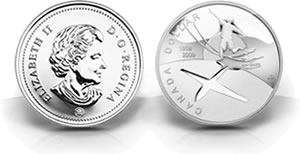 The newest 2009 silver dollar coins from the Royal Canadian Mint celebrate the centennial of Canada's first flight and its historic leadership in aviation.
A proof and a brilliant uncirculated silver coin commemorate Canada's achieved aviation advances throughout the years, and the beginning of Canadian flight 100 hundred years ago — the Silver Dart airplane completed its 0.8 km (0.5 mi) maiden flight over a frozen lake in Nova Scotia on February 23, 1909.
The Mint provided the following design details:
Designed by Ontario artist Jason Bouwman, this sterling silver dollar features an image of a young person running with arms spread like an airplane's wings, symbolizing humanity's timeless dream of flight.

In the background, the silhouettes of the Silver Dart, the Avro Arrow and a "Snowbird" Tutor Jet, illustrate Canada rich aeronautic engineering legacy. A close look at the overall design also reveals the ingeniously composed image of our beloved maple leaf
Coin Specifications
Both silver dollars are minted using 92.5 percent silver and 7.5 percent copper. Each ways 25.18 grams, has a diameter of 36.07 millimeters, and feature a serrated edge. Each has a limited mintage of 50,000.
Prices and order details – Canadian centennial flight silver coins
For more information or to place online orders, visit the Royal Canadian Mint product pages for each coin:
Brilliant Uncirculated Silver Dollar – $39.95 CAD
Proof Silver Dollar – $47.95 CAD
Larger Royal Canadian Mint images of the Brilliant Uncirculated coin follow: