2009 US Mint Silver Proof Set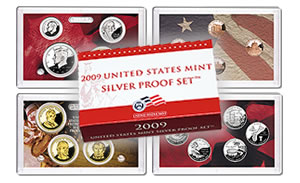 The United States Mint 2009 Silver Proof Set™ launches Friday, July 17, for $52.95, the US Mint announced late last week.
The annual Mint product is always tremendously popular with collectors and gift-givers. The 2008 silver proof set, which is available until replaced by the new release, went on sale August 26, 2008. An impressive 772,893 have been sold by the Mint as of July 5.
The new sets are $8 more than last year's, but it also includes three additional pennies and one more silver coin. Similar to the new clad proof set released by the Mint in June that are selling like hot cakes, the silver set contains collector versions of the all 18 coins struck for general circulation.
The Silver Proof Set is unique in that dime, half-dollar, and six quarters are struck in lustrous 90 percent silver. Additionally, the 2009 Lincoln Cents contain an alloy consisting of 95% copper, 3% zinc and 2% tin that matches the alloy used in the original 1907 version. The specially struck pennies alone are likely to make the 2009 sets more popular than ever.
The set includes the following 18 coins:
All 18 coins bear the "S" mintmark of the United States Mint at San Francisco.
2009 US Mint Silver Proof Set order information
No order limits are in place with sales beginning July 17, 2009 at 12:00 (ET). When available, visit the US Mint page:
United States Mint 2009 Silver Proof Set™
Sets may also be purchased through the Mint's toll-free number, 1-800-USA-MINT (872-6468).  Hearing and speech-impaired customers may order by calling 1-888-321-MINT (6468).