2010 American Veterans Disabled for Life Silver Dollar Images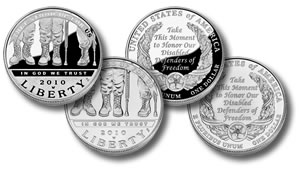 The United States Mint just released high resolution images of the upcoming 2010 American Veterans Disabled for Life Commemorative Coins. Previously, interested collectors only had line-art illustrations of the silver dollars to imagine what they would look like. Now detailed samples of the proof and uncirculated coins are available.
With an anticipated release of February, the coins honor disabled American Veterans who made enormous personal sacrifices in the service of their country. Legs and boots of three disabled veterans along with the inscription 'THEY STOOD UP FOR US' are shown on the silver coin's reverse.
The reverse depicts a forget-me-not flower at the base of a wreath of oak branches wrapped in a ribbon. Symbolizing strength, the wreath encircles the inscription 'Take This Moment to Honor Our Disabled Defenders of Freedom.'
"The images on the 2010 American Veterans Disabled for Life Silver Dollar capture the service of the brave men and women who have honored us with their selfless duty to defend our country," The US Mint states on its web site. "These veterans often carry permanent life-altering disabilities that serve as strong reminders of the price of freedom."
350,000 of the 90% silver coins will be struck across all product options with a surcharge of $10 from the sale of each coin to be forwarded to the Disabled Veterans' LIFE Memorial Foundation. The Foundation will use the funds to continue construction of the American Veterans Disabled for Life Memorial in Washington, D.C.
Proof Silver Dollar Images
Uncirculated Silver Dollar Images