Disabled Veterans Silver Dollar Commemorative Coins End Dec. 13, 2010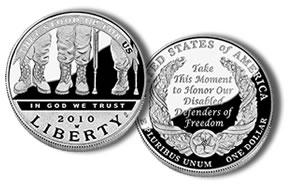 The proof and uncirculated Disabled American Veterans Silver Dollar Commemorative Coins will go off sale on Dec. 13, 2010, the United States Mint revealed Monday.
The U.S. Mint placed the remaining 2010 commemorative silver coins on its "Last Opportunity" website page indicating they are to be discontinued at 5:00pm ET on the 13th.
The $1 silver commemoratives were authorized by Public Law 110-277 and honor the service of disabled veterans who made enormous personal sacrifices while serving their country. The coins weigh 26.73 grams, have a diameter of 1.5 inches and are composed of 90 percent silver and 10 percent copper.
The Disabled Veterans Silver Dollar Commemorative Coins have sold well since they were issued back on Feb. 25, 2010. Last week's U.S. Mint sales report had their total at 69.7 percent capacity, with 244,030 of the maximum 350,000 mintage gone. The proofs are being favored over the uncirculated by a 2.4 to 1 margin, with current splits of 172,894 and 71,136.
The proof is listed for a price of $43.95. The uncirculated dollar is $35.95. Those prices include $10 surcharges with sales paid to the Disabled Veterans' LIFE Memorial Foundation to support the construction of the American Veterans Disabled for Life Memorial.
The silver dollar commemorative coins may be ordered via:
Orders can also be placed by calling 1-800-USA-MINT (872-6468). Hearing and speech impaired customers with TTY equipment may call 1-888-321-MINT (6468). There are no order limits in place.