Disabled Veterans Commemorative Silver Dollar Release Date Set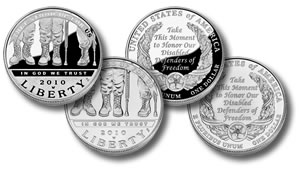 The first of two commemorative coins planned for 2010 by the United States Mint will be released on February 25, according the the Product Schedule located on the US Mint's website. Known as the 2010 American Veterans Disabled for Life Silver Dollar, the collector proof and uncirculated silver coins will see a maximum mintage of 350,000 across all product options.
Each dollar is struck from 90% silver and 10% copper and features an image of the legs of three disabled veterans on the obverse of the coin along with the inscription "THEY STOOD UP FOR US." The reverse shows a wreath of oak branches with a forget-me-not flower at its base. Inside the wreath the inscription "Take This Moment to Honor Our Disabled Defenders of Freedom" is found.
Authorized by the American Veterans Disabled for Life Commemorative Coin Act, it was signed into law (Public Law 110-277) by President Bush on July 17, 2008 to "pay tribute to the Nation's living disabled veterans by minting and issuing a commemorative silver dollar coin," according to the text of the legislation.
In commenting on the legislation, Representative Mark Kirk who co-introduced the original bill said:
"We owe our disabled veterans a considerable debt for their sacrifices … I am proud that Congress is taking action to preserve the legacy of these heroes."
Both proof and uncirculated versions of the coin will be struck with a weight of 26.73 grams and a diameter of 1.5 inches.
The law also authorized a surcharge on the sale of each of the Disabled for Life coins in the amount of $10. Once collected, the funds will be forwarded to the Disabled Veterans' LIFE Memorial Foundation which will use the money to aid in the construction of the American Veterans Disabled for Life Memorial in Washington, D.C.
The American Veterans Disabled for Life Silver Dollar is one of two 2010 silver commemorative coins schedule this year, with the other being a coin celebrating the centennial of the Boy Scouts of America (BSA). (See Boy Scouts Silver Dollar Coin Designs for more information on the designs.)