2010 Boy Scouts of America Silver Dollar Coin Designs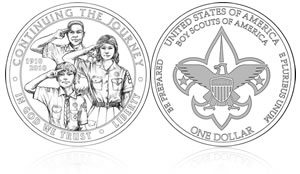 The United States Mint on Thursday unveiled designs for next year's Boy Scouts Commemorative Silver Dollars. The 2010-dated $1s celebrate the centennial founding of the Boy Scouts of America (BSA).
The Boy Scouts of America Centennial Commemorative Coin Act, which was signed into Public Law 110-363 by President Bush in Oct. 2008, authorizes the US Mint to strike a mintage of up to 350,000 collector silver coins in proof and uncirculated conditions.
The US Mint originally created 17 obverse (heads side) and 5 reverse designs for consideration with themes that were mandated by law to be "emblematic of the 100 years of the largest youth organization in United States, the Boy Scouts of America."
The winning two designs were selected by Treasury Timothy F. Geithner on Sept. 16, according to a Mint statement.
Boy Scouts Silver Dollar Design Images
The obverse depicts a Cub Scout in the foreground with a Boy Scout and female Venturer in the background saluting. Inscriptions include CONTINUING THE JOURNEY, 1910, 2010, IN GOD WE TRUST and LIBERTY. It was designed by Artistic Infusion Program Master Designer Donna Weaver and engraved by US Mint Sculptor-Engraver Charles Vickers.
The reverse features the universal emblem of the Boy Scouts of America. Inscriptions include UNITED STATES OF AMERICA, BOY SCOUTS OF AMERICA, BE PREPARED, E PLURIBUS UNUM and ONE DOLLAR. It was sculpted by US Mint Sculptor-Engraver Jim Licaretz.
The silver dollars will be composed of 90% and 10% copper. No official release date has been set yet, but the legislation approving the coin stipulates sales cannot begin until February 8, 2010.
Founded on the same day in 1910, the Boy Scouts of America has had an estimated 111 million Americans as members since its inception. Even today, an estimated 4 million people are active participants in the organization. Annually, scouts and their leaders volunteer over 35 million hours of service to their communities through more than 75,000 service projects.
$10 surcharges for each coin sold will be paid to the National Boy Scouts of America Foundation, with funds made available in the form of grants for the extension of Scouting in hard to serve areas.
For more information on the coins, also see Boy Scouts Commemorative Coins.
Girl Scouts Silver Coins will be issued by the US Mint in 2013 thanks to the Girl Scouts USA Centennial Commemorative Coin Act President Obama signed into law on Oct. 29, 2009.