Boy Scouts Silver Dollar Coin Release Date Set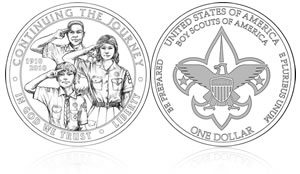 According to the latest updated US Mint 2010 schedule, the highly anticipated release for the 2010 Boy Scouts of America Centennial Silver Dollar will be March 23, 2010.
Up to 350,000 of the Scout coins will be struck to either proof or uncirculated condition from 90% silver and 10% copper. Their release coincides with the celebration of 100 years since the founding of the Boy Scouts of America (BSA).
Readers may recall that the final design for the coins was only released one month ago, and showcases three youth members (a Cub Scout, a female Venturer and a Boy Scout) all in full uniform giving a salute on the obverse. The reverse or tails side of the coin contains the widely-known and universal emblem of the Boy Scouts of America. (See Boy Scouts Silver Dollar Coin Designs for more information on the designs.)
Authorized by the Boy Scouts of America Centennial Commemorative Coin Act, which was signed by former President George W. Bush on October 8, 2008, the silver coins will be issued with a face value of one dollar and weigh 26.73 grams with a width of 1.5 inches.
The Scouting organization in America claims to currently have over 3 million youth members with 1 million adult members providing the leadership and training to the kids. Through the activities of the Scouts, 1.5 million plus service hours a year are provided to local communities in thousands of different projects ranging from food banks to litter pick-up.
A $10 surcharge will be added to the sale of each coin issued under the program with the raised funds forwarded to the National Boy Scouts of America Foundation. The Foundation will use the money as grants given to local councils to improve Scouting activities in hard-to-serve areas.