2010 Boy Scouts of America Silver Dollar Coins Launched, Sales Hit 200,000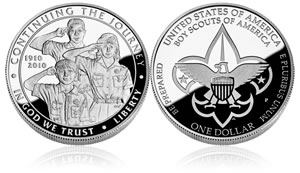 United States Mint Director Ed Moy confirmed the suspicions of many collectors on Saturday about the brisk sales of the 2010 Boy Scouts of America Centennial Silver Dollars.
"The coin program has already been a great success," said Director Moy at the American Numismatic Association's National Money Show™ in Fort Worth, Texas. "It went on sale this past Tuesday, March 23rd, and as of this morning, out of 350,000 that were available to sell, 200,000 have been sold."
Most familiar with the commemoratives already suspected that sales of the coin were quite good. In fact, many had been predicting it for months. And with the ordering issues experienced during the initial hours of its release day on March 23rd, everyone's expectations seemed confirmed.
At 200,000 sold, the Boy Scout strikes have already surpassed the 2010 American Veterans Disabled for Life Commemorative Coins released back on February 25, 2010. The most recent Mint figures show 166,368 of those commemoratives purchased.
In fact, sales of the Boy Scout coins are tallying up even faster than last year's Abraham Lincoln Bicentennial Commemorative Silver Dollar which eventually sold out. And that was with a greater mintage available, leading many to believe that the Scout coins will also attain a sold-out label. However, and notable, the Boy Scouts coins launched with a higher order limit of 100 per household. That has certainly helped.
The US Mint did not pass up the opportunity to promote the Boy Scout coins this last weekend when it offered an official release ceremony for them during the National Money Show™. At the ceremony, Mint Director Moy was joined by the Chief Scout Executive of the Boy Scouts of America Bob Mazzuca.
A video was also shown with statements from former Federal Bureau of Investigations (FBI) Director Judge William Sessions, as well as his son, Congressman Pete Sessions of Texas. Pete Sessions has the distinction of being the co-author of the legislation which authorized the Scout coin.
"We are deeply honored that the contributions of Scouting are being recognized with a special commemorative coin that not only celebrates our rich legacy, but also helps to raise funds to support the next generation of Scouting leaders," said Bob Mazzuca, the Chief Scout Executive of the Boy Scouts of America.

"Scouting brings families and communities together to prepare America's youth to live with character and integrity while at work and play, and the financial gift from the coin will help continue this into our next century of service."
Moy also praised the benefits of Scouting in his statement at the ceremony:
"The Boy Scouts of America Centennial Silver Dollar design combines the organization's tradition and its evolution over the past century as a bastion of leadership, service and community for all the youth of America," said United States Mint Director Ed Moy.

"I am honored to present this coin to the millions of Americans who benefit from their affiliation with the Boy Scouts of America."
The 90% silver, 10% copper Scout coins are available in either proof or uncirculated condition directly from the US Mint via their website at www.usmint.gov or by calling their toll-free number of 1-800-USA-MINT (872-6468).
An introductory price of $33.95 for the uncirculated coin and $39.95 for the proof will be offered until April 22, 2010. If the coin has not sold out by then, prices will go up to $35.95 and $43.95 respectively.