US Mint Issues Disabled Veterans Commemorative Coins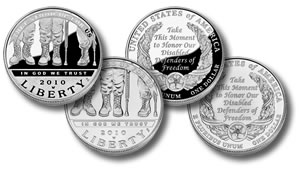 2010 American Veterans Disabled for Life Silver Dollars are now available. The United States Mint today at noon ET opened ordering for these special commemorative silver coins honoring disabled veterans who selflessly served in the armed forces, and paid an enormous personal sacrifice in so doing.
During an introductory period lasting through to March 29, 2010, until 5 p.m. ET, collector proof and uncirculated silver $1s will be available for $39.95 and $33.95, respectively. Prices will increase after to $43.95 and $35.95.
The heads side of these coins portray three disables vets with an image of five legs and boost, a single crutch, and a missing leg supported. It was designed and sculpted by Don Everhart. Inscriptions include a banner with THEY STOOD UP FOR US.
The banner "pays tribute to our courageous disabled veterans who have survived military service injuries for our freedom," the US Mint website states.
IN GOD WE TRUST, the year 2010 and LIBERTY are also inscribed. The side was designed and sculpted by Don Everhart.
The reverse or tails side, designed by Thomas Cleveland and sculpted by Joseph Menna, depicts a forget-me-not flower at the base of a wreath of oak branches wrapped in a ribbon. Symbolizing strength, the wreath encircles the inscription Take This Moment to Honor Our Disabled Defenders of Freedom. Around the outside of the wreath are the words UNITED STATES OF AMERICA, E PLURIBUS UNUM and ONE DOLLAR.
Each commemorative is struck from 90% silver and 10% copper, has a diameter of 1.500 inches, or 38.100 mm, and weighs 27.730 grams. Both are produced from the Mint at West Point and feature the "W" mint mark so denoting.
350,000 will be struck across all product options with a surcharge of $10 from the sale of each commemorative forwarded to the Disabled Veterans' LIFE Memorial Foundation. The Foundation will use the funds to continue construction of the American Veterans Disabled for Life Memorial in Washington, D.C.
The silver coins may be ordered via:
U.S. Mint Commemorative Coin Product Page
Orders can also be placed by calling 1-800-USA-MINT (872-6468). Hearing and speech- impaired customers with TTY equipment may call 1-888-321-MINT (6468).
For additional information on the coins, also see their initial designs and high resolution coin images.
The American Veterans Disabled for Life Silver Dollar is the first commemorative released from the Mint this year. The 2010 Boy Scouts of America Centennial Silver Dollar will launch on March 23, 2010, with the same coin options and at the same prices. (See Boy Scouts Silver Coin Designs for more information on the designs.)
About the United States Mint
The United States Mint, created by Congress in 1792, is the Nation's sole manufacturer of legal tender coinage. Its primary mission is to produce an adequate volume of circulating coinage for the Nation to conduct its trade and commerce. The United States Mint also produces proof, uncirculated, and commemorative coins; Congressional Gold Medals; and gold, silver and platinum bullion coins.