2010 Commemorative Silver Dollar Prices: Boy Scouts and Disabled Vet Coins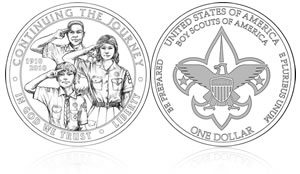 The United States Mint has published the prices for its two 2010 Commemorative Silver Dollar Coins. As it has done in the past, the US Mint will offer reduced, introductory pricing.
The 2010 American Veterans Disabled for Life Commemorative Silver Dollar launches first on February 25, 2010, in proof and uncirculated conditions for $39.95 and $33.95, respectively. Those prices will be available through to March 29, 2010, when it will be offered at the regular prices of $43.95 and $35.95.
The 2010 Boy Scouts of America Centennial Silver Dollar will launch on March 23, 2010, with the same coin options and at the same prices. The intro pricing lasts through April 22, 2010.
The prices are $2 more than the Mint charged for the standalone 2009-dated commemoratives, the 2009 Abraham Lincoln Commemorative Silver Dollar, and the 2009 Louis Braille Bicentennial Silver Dollar Program. The Mint last year also offered a special set for each commemorative. No announcement has been made if such an option will be available for each of the 2010 coins.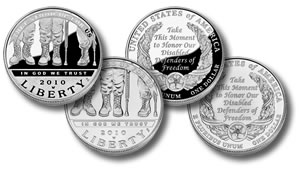 The disabled vet coin obverse (heads side) shows the legs of three disabled veterans with the inscription "THEY STOOD UP FOR US" arcing over the top of them. On the reverse, oak branches are bound with a ribbon into a wreath. At the base of the wreath is a forget-me-not flower. Inside the wreath the inscription is the inscription "Take This Moment to Honor Our Disabled Defenders of Freedom."
The obverse of the Boy Scouts commemorative coin features an image of three youth Scouting members on the obverse, a Cub Scout, a Female Venturer and a Boy Scout. All three are shown giving a salute while dressed in full uniform. The reverse shows the Boy Scout's of America emblem.
The coins will have a total combined mintage of 350,000 per commemorative.