2010 Proof Silver Eagle Coins Update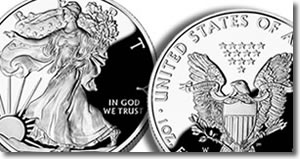 The United States Mint may yet be able to strike 2010 American Eagle Silver Proof Coins and 2010 American Eagle Silver Uncirculated Coins this year, according to recent testimony from U.S. Mint Director Ed Moy before a House subcommittee, but apparently only with the help of the United States Congress.
The news comes as a glimmer of hope to collectors of the numismatic coins which have been missing from the Mint's product line since late 2008. Due to overwhelming demand for the bullion American Silver Eagles, the Mint has not been able to procure enough planchets to also strike the proof and uncirculated options.
By law, the Mint is required to produce bullion coins to meet demand. However, as that demand has been at record levels for going on two years now, all available silver planchets have been allocated to bullion Silver Eagle production.
The proofs were first struck back in 1986, and were available every year until their 2009 cancellation. The uncirculated versions debuted back in 2006 and had a three year run before also being struck from the Mint's product portfolio for 2009.
Collectors will recall that the Mint canceled these silver coins late in the year, after being unable to meet bullion demand — and that was with a rationing program in place where only a portion of the actual number of coins ordered by the Mint's network of authorized purchasers was shipped. That allocation program remains in place this year, but still the Mint is struggling to keep up with normal production.
With no end in sight for the interest in bullion coins, the Mint is promoting an alternative to allow it to produce the numismatic eagles — a new law from Congress.
Testifying before the House Subcommittee on Domestic Monetary Policy and Technology during a hearing on "The State of U.S. Coins and Currency," Mint Director Edmund Moy revealed the possibility of striking 2010 uncirculated and proof Silver Eagles:
"I am encouraged to know that the Subcommittee is exploring the possibility of an amendment to the law that would afford the Secretary the authority to approve the minting and issuance of American Eagle Silver Proof and Uncirculated Coins even when we are unable to meet the public's demand for the bullion versions of these coins," stated Mint Director Ed Moy.

"However, such a change needs to be enacted soon," continued Moy. "We can mint 200,000 per month, and if we can begin by September, we will be able to produce about 830,000 one-ounce
silver American Eagle coins to meet collector demand for this product in the remaining months of 2010."
Such a change in the law would mean that collectors would once again be able to purchase the collector silver coins on an annual basis.