2010 Proof Silver Eagles Remain Uncertain, Proof Gold Eagle Coins Coming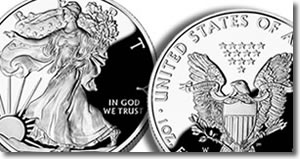 The United States Mint will be selling at least one of its staple proof products this year, the 2010 Proof American Gold Eagle. However, the status of the 2010 Proof American Silver Eagle is still uncertain, according to the latest eagle production news from the United States Mint.
The U.S. Mint confirmed on Tuesday that it has started producing four different 2010-dated Proof Gold Eagles — the 1 oz, 1/2 oz, 1/4 oz and 1/10 oz sizes. No official launch date is available for the 22-karat gold coins, but expectations are for a "mid-October" release.
The gold proofs, like the silver proofs, were canceled last year as extraordinary demand created supply issues for silver and gold coin blanks — the precious metal discs used in creating coins. The collector uncirculated and proof eagles were first placed on hold and then eventually eliminated for the year in order to produce the maximum amount of bullion coins, as the Mint is required by law to produce bullion eagle coins to meet demand.
Tuesday's news brings a breath of fresh air to collectors, as it signals that the Mint has been able to catch up to demand… but, unfortunately, only for its gold coins. A major reason is simply that demand for bullion 2010 American Gold Eagles has been easing of late. However, that has not been the case for its bullion silver coins. While sales were lower in August, this year's bullion Silver Eagles are still easily on pace to break last year's annual record of 28,7666,500 — 23,600,500 have already been sold during the first eight months of 2010.
In that sense, the chances that the Mint will begin striking collector 2010 Proof Silver Eagles seems shaky at best unless a new law is passed that enables the Mint to reduce its production of the bullion eagles and shift a portion of its silver coin blanks over to make the proofs. For more on this possibility, read the SilverCoinsToday article in early August that discussed recent congressional testimony by U.S. Mint Director Ed Moy on the topic.