2010 Proof Silver Eagle Production Uncertain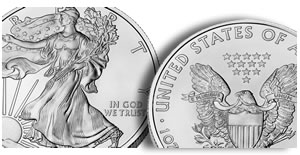 The production of 2010 American Eagle Silver Proof Coins and 2010 American Eagle Silver Uncirculated Coins remains up in the air, according to the latest news from the United States Mint.
The U.S. Mint updated is product schedule through to the end of this year and classified the releases of the two collector coins as "TBD," or To Be Determined.
The annual proof coins have been produced since the American Eagle series launched in 1986, with the uncirculated option added to the Mint's product portfolio in 2006. However, the 2009s were cancelled as a result of "unprecedented demand" for the bullion version, which the Mint must strike by law "in quantities sufficient to meet public demand." The bullion eagles are intended for investors, and do not have the proof or uncirculated finishes nor the "W" mint mark.
2009 was indeed a record year for the bullion Silver Eagles, with buyers snapping up 28,766,500 of them. This year's figures are even more robust — at least for the first half of the year. The 2010-dated bullion coins went on sale on January 19, 2010. More than 18 million have already been sold. The enormous sales level is discouraging for the collector coins unless the Mint manages to get more silver coin blanks. On that note, the Mint stated in an announcement regarding its updated product schedule that:
"Public Laws 99-61 and 99-185 mandate that the United States Mint mint and issue its American Eagle Silver and Gold Bullion Coins "in quantities sufficient to meet public demand…"  There is no corresponding legal requirement to mint and issue the proof and uncirculated coins in quantities sufficient to meet public demand.  The bureau, however, is continuing to work with current and potential blank suppliers to increase the supply of silver and gold blanks in amounts that may make it possible to offer the proof and uncirculated versions of American Eagle Silver and Gold Coins in 2010."
Collectors had to wait through most of 2009 to find out the fate of the proof and uncirculated Silver Eagle coins. It would appear the wait to find out the fate of the 2010s could be just as long.