US Mint Announces 2010 Silver Eagle Bullion Coin Sales Date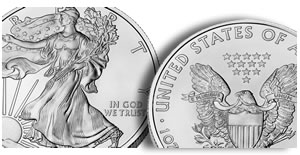 The United States Mint today told its authorized purchasers that it would begin taking orders for 2010 American Eagle Silver Bullion Coins on January 19.
The US Mint also said it would offer the 2009-dated versions "through the end of the year and into 2010 as long as inventories remain." The coins, to include the new 2010s, will continue to be sold in an allocated, or limited basis.
The demand for Silver Eagles had been incredible, with an all-time annual record of 27,843,000 year-to-date sales — that, despite temporary suspensions and allocations throughout the year. The bullion eagles resumed from their most recent suspension on Monday, December 7.
The following table reflects how the silver coins have been doing this year:
2009 Sales of American Silver Eagle Bullion Coins
| | | | | | |
| --- | --- | --- | --- | --- | --- |
| Jan | Feb | Mar | Apr | May | June |
| 1,900,000 | 2,125,000 | 3,132,000 | 2,518,000 | 1,904,500 | 2,245,000 |
July
Aug
Sept
Oct
Nov
Dec*
2,810,000
2,130,000
1,703,000
2,939,000
2,586,500
1,850,000

*As of Tuesday, December 22.
The interest level for the bullion coins has had negative consequences to the 2009 collector proof and uncirculated versions. They were first placed under suspension and then canceled entirely in October.
In fact, in a normal year the production of the 2010-dated Silver Eagles would have already began by this time of the year, and the 2009s would have ended. But the unprecedented demand forced the US Mint to delay their switch over.
The US Mint sells bullion coins for a small amount over the current silver spot price, but only to authorized purchasers. The authorized purchasers in turn resell the coins to coin dealers, precious metal providers and/or directly to the public.