2010 Silver Eagle Bullion Coin Sales Leap to Annual Record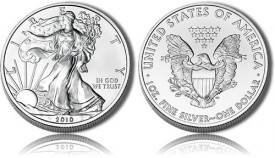 As of Thursday, November 4, the United States Mint had sold more American Silver Eagle bullion coins in 2010 than in any other year of the coin's history.
U.S. Mint buyers ordered 3.15 million of the .999 fine silver coins in October, breaking a streak of four straight monthly declines. October sales combined with the already 255,000 sold in November (150,000 of those on Thursday) lifted 2010 Silver Eagle bullion coin sales to 28,885,500.
That was enough to topple the 28,766,500 tally which was the previous annual record set in 2009.
With nearly two months still left in the year, the annual record total will climb by several more million. Consider that five of the ten months gone by this year have had 3+ million sales, as the below table highlights. That bodes well when combined with the fact that November and December are traditionally among the strongest months of the year for gold and silver bullion coins.
There is yet another significant record that will likely be toppled before year's end. Historically, the U.S. Mint begins selling newly dated or "next year" Silver Eagles in December so dealers can offer them immediately in January. For the first time, that did not happen for the 2010 Silver Eagles. They only launched on January 19. Bullion demand was so high that the Mint continued selling the 2009-dated Silver Eagles. As such, the 2009's not only enjoyed extra selling weeks in late 2008, but also in early 2010, making them the most sold year-dated Silver Eagle ever at 30,459,000.
While the Mint has sold 28,885,500 Silver Eagle bullion coins to date, 367,500 of them were 2009-dated eagles sold back in early January. For the 2010-dated Silver Eagles to become the most ever sold since the series was introduced in 1986, buyers will need to order just over 1.9 million more of them.
2010 American Silver Eagle Bullion Coin Sales
| | |
| --- | --- |
| January | 3,592,500 |
| February | 2,050,000 |
| March | 3,381,000 |
| April | 2,507,500 |
| May | 3,636,500 |
| June | 3,001,000 |
| July | 2,981,000 |
| August | 2,451,000 |
| September | 1,880,000 |
| October | 3,150,000 |
| November* | 255,000 |
| Total | 28,885,500 |
*Thursday, November 4 is the "as of date" for the bullion eagle numbers.