2009 American Silver Eagles Smash Record, Top 30 Million
US Mint 2009-Dated Silver Eagles Smashed Record, Topped 30 Million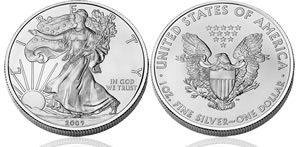 The U.S. Mint wrapped up its accounting for 2009 American Eagle Silver Coins. The latest numbers are nothing short of impressive. Authorized buyers snapped up a record 30,459,000 of the .999 fine bullion coins.
That is nearly 9.9 million more than the previous record which was set only a year earlier with the 2008-dated Silver Eagles. Those reached 20,583,000.
The latest figures officially cement 2009 into the record books for both annual sales and year-dated coin sales. In January the United States Mint reported that it had sold 28.7 million Silver Eagle one-ounce coins in all of 2009. (Read Silver Eagles Set Annual Record at 28.7M.)
Year-Dated American Silver Eagle Bullion Coin Sales (1986-2009)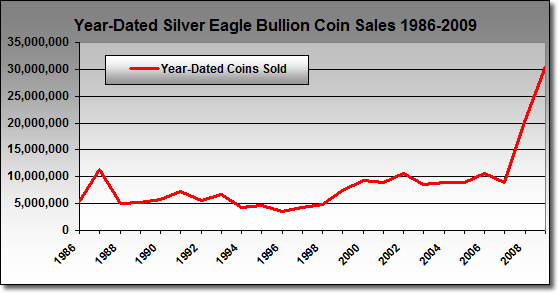 The two figures are different as the Mint normally accepts orders for upcoming year coins in December, although Mint buyers can not resell them until the first of the year. That happened at the end of 2008 — buyers placed orders in December 2008 for 2009-dated eagles. Additionally, unprecedented demand kept the Mint striking 2009-dated coins into December 2009, when they would have normally been busy striking new year replacements. As a result, the Mint kept selling 2009-dated inventory all the way through to January 12, 2010.
In that sense, the 2009 Silver Eagles were available for longer than normal (late December 2008 – mid January 2010). Still, demand was unquestionably higher. So much so that the Mint suspended eagle sales more than once and coin rationing was in affect for much of the year — these situations prevented even higher numbers… as well as resulted in the cancellation of the 2009 collector versions.
The Mint does not sell its bullion coins directly to the public. Instead, it works with a small number of authorized purchasers who in turn resell the coins to precious metal providers, investors, dealers and collectors. These coins do not have a mint mark, unlike their numismatic proof and uncirculated counterparts struck specifically for collectors.