2009 American Eagle Silver Bullion Coins Sold Out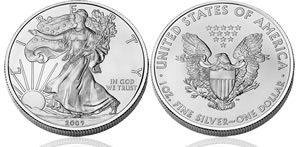 Topping off a mintage that was already in the record sales range, the US Mint announced today that it has sold out of the 2009 American Eagle Silver Bullion Coins.
As previously reported — only minutes ago, the United States Mint sold 28,766,500 of the one ounce coins last year which shattered the record set just one year before by over 9 million. By adding in the latest available sales figures from the Mint of 367,500 sold this month, we find that 29,134,000 of the 2009-dated Silver Eagles were purchased in total.
It is uncommon for the Mint to still be selling the previous years bullion issues into a new year. Typically, production is stopped on a year's mintage by late November to allow the Mint sufficient time to create an inventory of the next year's coin before making them available near the 1st of the year. Unfortunately, due to the overwhelming demand last year for silver coins, the Mint was forced to keep striking that year's issue.
With the 2010 dated Silver Eagles due out on January 19th, it seems highly likely that the Mint will keep them on an allocation program for some time since there is no stock-pile on hand to draw upon. Collectors and investors will recall that the 2009 coins were also rationed for most of the first half of last year.
There is no word yet on if the Mint will also be able to strike the numismatic uncirculated and proof 2010 Silver Eagles. Last year the coins were cancelled due to limited blank availability with the Mint's website still stating the following:
"The United States Mint will resume the American Eagle Silver Proof and Uncirculated Coin Programs once sufficient inventories of silver bullion blanks can be acquired to meet market demand for all three American Eagle Silver Coin products."
At an average silver price of $14.67 an ounce for last year and recently well above $18, it will be interesting to see if demand will continue on these investment coins.