2.2 Million Silver Eagle Bullion Coins Sold in June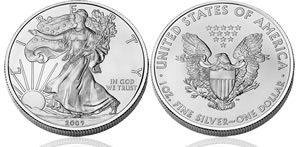 Sales of American Eagle Silver Bullion Coins soared in June, marking the third best month of 2009 according to the latest US Mint sales stats.
The US Mint sold 2,245,000 silver eagles in June, preserving a pace that, if continued, will demolish last year's impressive total and record the best twelve months since the series began in 1986.
The latest sales figures by month to included a finalized June:
Monthly 2009 Silver Eagle Bullion Coin Sales
January
February
March
April
May
June
1,900,000
2,125,000
3,132,000
2,518,000
1,904,500
2,245,000
For the first six months of this year, 13,824,500 eagles have been sold by the US Mint to its authorized purchasers, who in turn resell the bullion coins to investors, dealers, and straight to the public. By comparison, 20,583,000 were sold in record-setting 2008.
Perhaps more importantly, June has blown past the 1.9M silver eagles sold in May, which shows demand for the coins has picked up after dipping from a peak in March.
As the eagle surge was described on sister site Coin News, clearly, the US Mint's ability to recall its bullion allocation policy in June was more the result of attaining sufficient bullion blank inventory than any sign of a huge fall in demand, as has seemed to be the focus in many news and blog articles of late.
The US Mint still has not indicated when it will produce the proof and uncirculated eagles. The collector silver coins were suspended earlier in the year due to "unprecedented demand" for the bullion coins and the resulting lack of silver coin blanks, which had also resulted in the aforementioned and now terminated allocation policy.