Record 2.13 Million Silver Eagle Coins Sold in August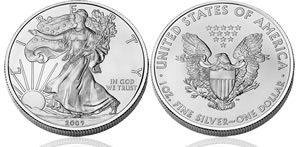 American Silver Eagle Coins hit another new record last month. The US Mint sold 2.13 million of the bullion coins, which is the most ever for an August month.
That may surprise those who watch the series, given the total is actually down substantially — 24.2 percent — from July's record 2.81 million.
Further, while July ranked as the second best 2009 month for the eagles, August sales are actually toward the middle of the monthly pack — falling behind not only July, but June, April and March. And the month edged out February by just 5,000.
BUT… most of these months were exceptionally spectacular in their own right. Also, an analysis of the historical record shows that August (and summer months in general) can often tend to be a weaker month for Silver Eagles — especially when compared against the earlier and later times of a year.
With that in mind, it is easier to see how sales could retreat, and yet eagle demand still register as the best ever August. The following chart highlights this:
Silver Eagle Bullion Coin Sales: August 1986-2009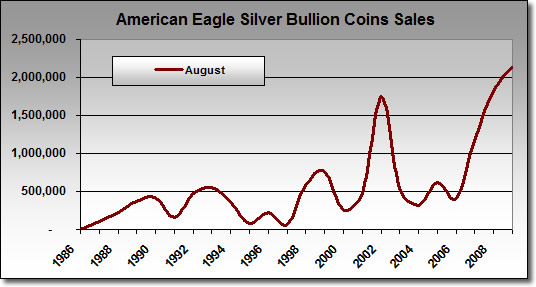 For the year, Silver Eagles now total 18,764,500. By comparison, 20,583,000 were sold in record-breaking 2008. That record could be shattered by late September.
The following table and chart shows how eagles have been doing this year and since 1986:
2009 Silver Eagle Bullion Coin Sales by Month
January
February
March
April
May
June
July
August
1,900,000
2,125,000
3,132,000
2,518,000
1,904,500
2,245,000
2,810,000
2,130,000
Silver Eagle Bullion Coin Sales: January – August Totals (1986-2009)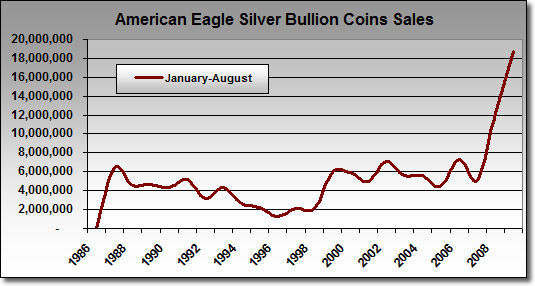 The US Mint sells American Eagle bullion coins, which are the non collector versions, only to its authorized purchasers who then sell to dealers and/or directly to the public. The US Mint has not indicated when it will produce collector proof and uncirculated 2009 eagles.