2009 Silver Eagle Coins Hit 2.9 Million Record in October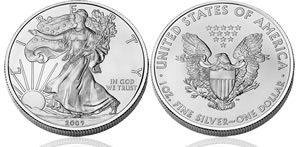 2009 American Silver Eagle Coins registered another new record last month. The US Mint sold 2,939,000 of the bullion coins, which is the most ever for an October month stretching back the creation of the series in 1986.
The milestone denotes the eighth time this year where a best ever monthly record has been achieved. January and September were the only exceptions, coming in second after falling behind to the same month sales in 2008.
Most impressive for October was that the monthly total was more than double that of second place finisher, Oct. 2008 with its 1,425,000.
2009 American Silver Eagle Bullion Coin Sales: October 1986-2009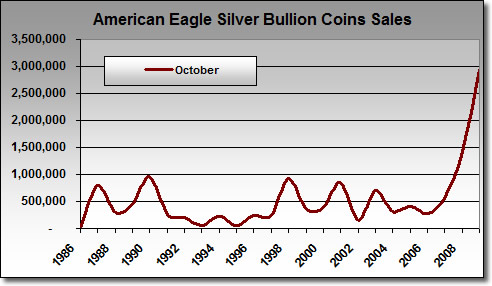 October also stands out as the time when 2009 became the top selling year ever for the silver coins. 23,406,500 Silver Eagles were sold between Jan. 2009 – Oct. 2009. In contrast, the US Mint sold 19,583,500 during all of 2008, which was the prior annual eagle sales record.
The following table and chart shows how eagles have been doing in 2009 and since 1986:
2009 Silver Eagle Bullion Coins by Month
| | | | | | |
| --- | --- | --- | --- | --- | --- |
| Jan | Feb | Mar | Apr | May | June |
| 1,900,000 | 2,125,000 | 3,132,000 | 2,518,000 | 1,904,500 | 2,245,000 |
July
Aug
Sept
Oct
2,810,000
2,130,000
1,703,000
2,939,000
Annual Silver Eagle Bullion Coin Sales 1986-2009*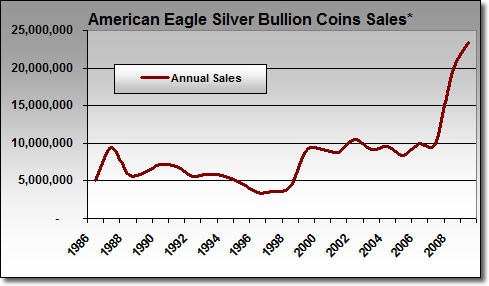 *2009 includes months Jan. – Oct.
The US Mint sells bullion coins for a small amount over the current spot price of silver, but only to authorized purchasers. The authorized purchasers in turn resell the silver coins to coin dealers, precious metal providers and/or directly to the public.
Collector American Silver Eagle coins will not be minted in 2009, and for the first time since 1986. The US Mint canceled the 2009 eagles due to unprecedented demand, stating in part: "All available 22-karat gold and silver bullion blanks are being allocated to the American Eagle Gold and American Eagle Silver Bullion Coin Programs, as mandated by Public Law 99-185 and Public Law 99-61, respectively."
[phpbay]2009 Silver Eagle Coin, 4, "", ""[/phpbay]